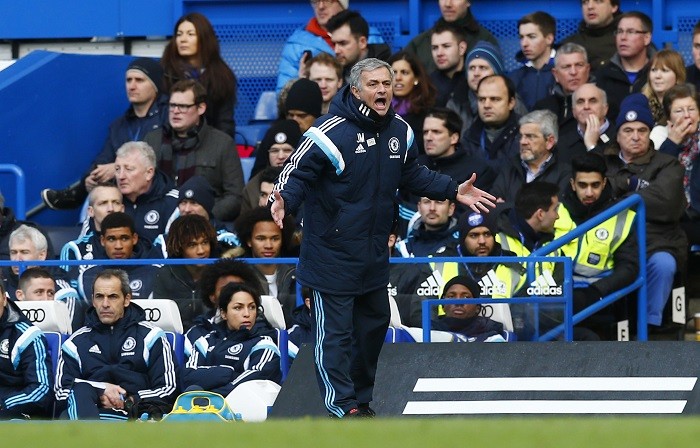 Chelsea boss Jose Mourinho praised his players after the Blues' 3-1 victory over Leicester City, insisting that his side are currently what "every team wants to be" in the Premier League.
Didier Drogba, John Terry and Ramires all found the nets in the second half, as the Blues came from behind to record a 3-1 victory at Leicester City after Marc Albrighton had put the Foxes ahead just before the break.
This victory means that the Blues are now only two points away and can secure their first title since 2009/10 season if they manage to beat Crystal Palace at Stamford Bridge this weekend.
The Blues have been criticised by many for their defensive style of play this season, with Arsenal fans recently chanting "boring, boring Chelsea" during the West London side's 0-0 draw against Arsenal last weekend.
But Mourinho insists that he doesn't care what other people feel, insisting that Chelsea are currently "what every team wants to be."
"I don't need other people to recognise what we are, I know what we are. In a very pragmatic way, we are what every team wants to be," the Portuguese told Sky Sports.
"It is phenomenal what the team are doing. Being top of the league since day one is not easy."
Mourinho went on to praise Chelsea's performance at Leicester City saying that his players did a "fantastic" job to beat a team on such a good run despite going behind in the first half.
"Today, we played against a team on a great run, who have won 12 points out of 12, playing at home with lots of confidence, then we go a goal down. To come back in the second half the way my boys did it is fantastic," added the former Porto boss.
"My experience in football is just worry about my feelings. I know what I feel in relation to the work we have been doing in the last two years."
"It is also stylish to defend well against a dangerous team like they [Leicester] are. We coped magnificently well with them."
Mourinho, who admits that Chelsea were struggling when he took charge at Stamford Bridge for a second time in the summer of 2013, feels that his side have made huge progress in a short span of time, and they should be proud of themselves now that they are so close to clinching the Premier League title.
"When I arrived two years ago, in terms of the Premier League, Chelsea was struggling. Last season we had an evolution, we finished third but could have finished second or first."
"This season has been absolutely magnificent from a small group of players. We are almost there. In the moment we get these final three points to become champions, the boys need to be really proud of themselves."