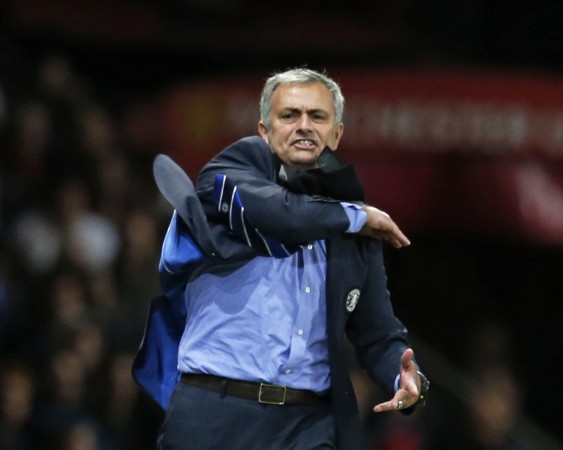 Chelsea manager Jose Mourinho has criticised the Football Association for not taking any action against Manchester United striker Robin van Persie, who was accused of elbowing West Ham's James Tomkins during his side clash against the Hammers on Sunday.
Tomkins broke his nose during the game after being struck on the face by United midfielder Marouane Fellaini.
However, while the defender said that the Belgian's clash with him was an accident, he insisted that van Persie's elbow to his face was malicious.
Still the FA, who have charged Manchester United boss Louis van Gaal for his comments on referee Chris Foy following his side's goalless draw at Cambridge United in the fourth round of the FA Cup on 23 January, have taken no action against the former Arsenal striker by the FA.
Mourinho, who himself was recently charged and fined £25,000 for his comments on the match officials during his side's draw at Southampton on 28 December, says that he does not understand why some players are punished and others are not.
"I need a bit more time to understand why some people are punished, others aren't," Mourinho told BBC.
Chelsea's Diego Costa was recently handed a three-match ban by the FA after he was charged for his stamp on Liverpool's Emre Can during their Capital One Cup second leg semi-final clash against the Reds on 27 January.
And Mourinho says that he fails to understand how van Persie escaped punishment when the FA took absolutely no time to punish Costa.
"The same people that suspended my player [Costa] didn't want to suspend a player this weekend," added Mourinho.
"A player did this [the Portuguese made an elbowing motion] in the face of somebody else and nothing happened."
The former Real Madrid boss claims that the same thing happened last season when Chelsea's Ramires was charged and handed a four-match for taking a swing at Sunderland's Sebastian Larsson, while Manchester City's Yaya Toure escaped punishment for kicking Norwich City Rickie van Wolfswinkel a week later.
"Last season the same thing happened, when Ramires was suspended," added Mourinho. "It was exactly the same thing. And one week later a Manchester City player kicked a player on the floor at Norwich and nothing happened. I'm used to it."