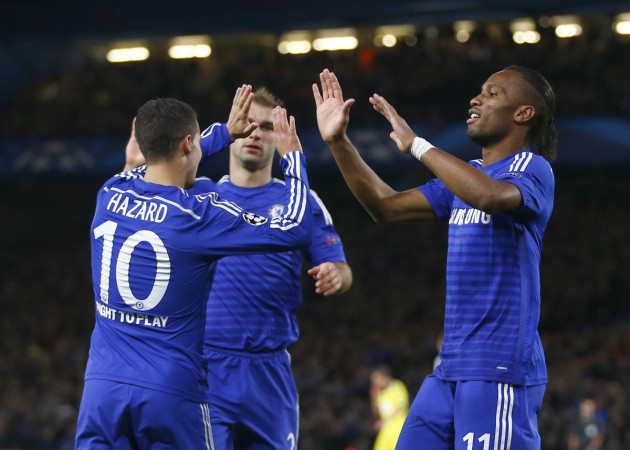 Chelsea boss Jose Mourinho says that he wasn't too pleased with Eden Hazard's decision to let Didier Drogba take the first penalty during the Blues' 6-0 win over NK Maribor in the Champions League.
After going ahead in the 13th minute through a Loic Remy strike, the Blues were awarded a penalty following Aleš Mertelj' s handball inside the box.
Despite admitting that he was pleased to see Drogba score his first goal for Chelsea since rejoining the club this summer, Mourinho admits that he was surprised to see Hazard step aside and let the Ivorian take the penalty.
"I was surprised [Hazard gave Drogba the penalty]," said Mourinho, according to the Express. "I was not particularly pleased, Hazard is first choice for penalties. But it was a goal, so I was happy for that."
Meanwhile, Drogba expressed his happiness at scoring his first goal for Chelsea following his return this summer, with his first goal on return coming in the same manner in which he scored his last in his first stint with the club.
"I always felt lucky to score here [at Stamford Bridge] and I had that feeling again," Drogba told Sky Sports. "I never knew if it was going to be the same story again [when he walked up to take the penalty] but I hoped so."
Apart from the penalty incident, Mourinho says that he was pleased with his side's dominating performance against Maribor.
"It was good. Obviously when you score a third before half-time the opponents were not strong enough to have a reaction in the second-half and to create problems for you, so it was a safe performance," Mourinho told Sky Sports.
"I think we were very, very strong when we had to be very strong, which was at the beginning of the game, and after that we had the happiness to play. The players kept enjoying the game, playing with ambition and trying to score goals, so three important points."
Despite the comprehensive win, it was not all smiles for Chelsea as their striker Loic Remy sustained an injury that forced him off the pitch early on in the game.
With Diego Costa already sidelined with a hamstring problem, the Blues are currently facing a striker crisis ahead of their important clash against Manchester United on Sunday.
However, Mourinho, who confirmed that Remy sustained a "muscle injury", says that he is "not worried", hinting that Drogba will lead Chelsea's attack against United.
"It's a muscular injury, I don't know the dimensions but I'm not worried, when one player is injured you play another one," added Mourinho.