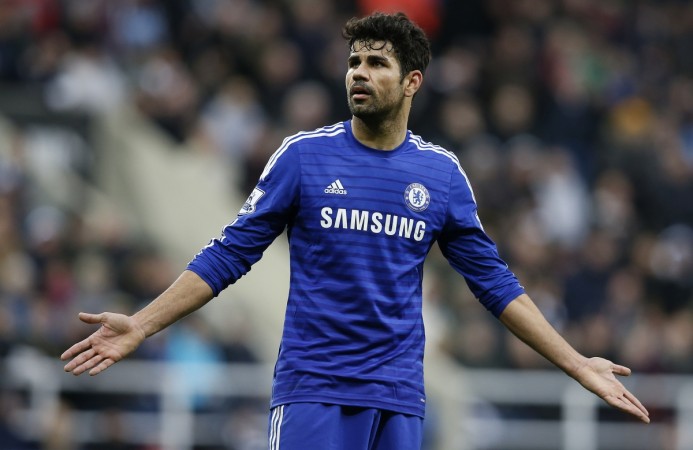 Chelsea boss Jose Mourinho feels that Diego Costa will start getting back to the scoring charts as soon as he improves his fitness.
The 26-year-old Spain striker got his Chelsea career to a flying start, scoring seven goals in his first four Premier League appearances, following his £32 million move from Atletico Madrid this summer.
However, of late, the Brazil-born striker has seen a dip in form, managing only two goals in the last seven games.
This has resulted in Manchester City's Sergio Aguero replacing Costa as the leading scorer in the Premier League.
However, Mourinho insists that he is not worried by Costa's goal drought, insisting that the striker, who has struggled with injuries this season, will again start firing once he improves his fitness.
"For me, the problem is not the goals – they will come as a consequence of his condition. He has to improve his condition. He was injured and had many doubts because he went a long time without training," said Mourinho, according to the Guardian.
"Obviously that must have an effect on a player in the way he runs, the way he moves and in his co-ordination. I don't think there is any problem but he has to recover."
Meanwhile, Mourinho feels that Chelsea are currently the best team in the Premier League despite their 1-2 defeat to Newcastle United on Saturday.
The Blues' hopes of matching Arsenal's unbeaten campaign in 2003/04 are gone, but Mourinho claims that his side are still better than other teams in the Premier League, insisting that he expects Chelsea to make a comeback in their next fixture.
"Nobody has done better than us. Everyone would like to be in our position. So we are more than fine. We are better than anybody else," Mourinho told the Mirror.
"I don't say my team is the best, I say my team is top of the league and at this moment nobody has the same points we have. Because of that at the moment we're the best team in the Premier League."