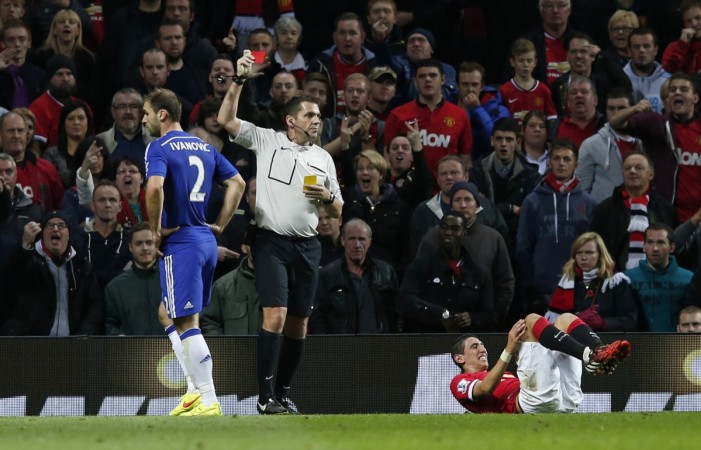 Chelsea boss Jose Mourinho indicated that the referee's decisions against his side resulted in the Blues dropping two points at Manchester United on Sunday.
Robin van Persie cancelled out Didier Drogba's strike in the dying moments of the match, after referee Phil Dowd showed Branislav Ivanovic a second yellow for fouling Angel Di Maria.
However, Dowd did not take any action when the Serbian defender was brought down by Chris Smalling inside the box in the first half.
And Mourinho, who was clearly annoyed by Dowd's refereeing on Sunday, clearly indicated that the referee made a lot of bad decisions during the match.
"The red card, I was seeing it coming. If I have to speak about the second yellow I have to speak about lots of things," a fuming Mourinho told Sky Sports after the match.
"The penalty that Ivanovic should have been given [after wrestling with Smalling], the accumulation of yellow cards, the throw-ins. I know I speak always with my heart and get in trouble."
However, apart from the late goal and Dowd's refereeing, Mourinho said that he was satisfied with his side's display considering the Blues were without their strikers Diego Costa and Loic Remy, who were ruled out due to a hamstring and a groin injury respectively.
"We played very well against a good Man United," Mourinho told Chelsea's official website. "I am so happy with my players.
"We got the same result as last season here but if I compare what we did last season here and what we did this season it clearly shows the evolution of this team."
Still the former Real Madrid boss knows Chelsea could have easily come away with all three points instead of one.
"We are not happy with the point," the Portuguese added. "To come here and play the way we did, and not to be happy with the point - because we are not - clearly shows how good we were and how well we are playing in this moment."
Mourinho went on to praise Drogba, who netted his first Premier League goal since his return this summer, insisting that the Ivorian could have scored more.
"He [Drogba] has scored so much. He scored a beautiful goal, he could have scored in the first half," added Mourinho.
The 51-year-old Portuguese also reserved some special praise for Eden Hazard, who was excellent at Old Trafford on Sunday.
"He [Hazard] had initiative. He's showing that in big matches – to take responsibility, to get the ball and try to create," said Mourinho. "He did it in the first half and he did it in the second. I am so happy with the kid. He's another one who, believe me, is improving."