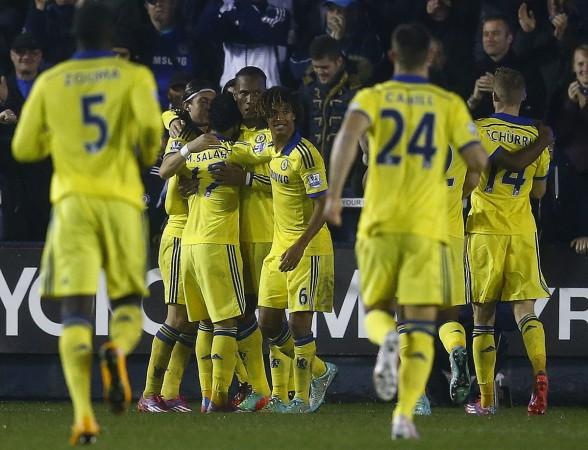 Liverpool defender Kolo Toure feels that Chelsea have the potential to emulate the Arsenal 'Invincibles' record, where they ended the 2003/04 campaign as English Champions without losing a single game in the Premier League.
Arsenal and Preston North End are the only English sides to have finished an entire season without a single league defeat.
While many believe that such a feat is impossible to repeat considering the competitiveness of the Premier League of late, Toure, who was a part of the Arsenal Invincibles, feels that Chelsea can become the third English team to achieve this feat.
"Chelsea have a good team. With the squad they have of course they can do it (go unbeaten all season), but its not only about quality, it is also about mentality," Toure told Liverpool Echo. "Every game is challenging and sometimes things don't go well for you but you need to be able to come back and carry on fighting. The season has just started, so we will see."
However, the 33-year-old centre-back insists that Liverpool will be looking to end Chelsea's unbeaten run when they play hosts to the Blues on Saturday.
"It's a great chance [for Liverpool to end their unbeaten run] but the most important thing is we want to win the game," he added.
Liverpool's home defeat to Chelsea towards the end of last season cost them the Premier League title, and the former Arsenal defender insists that all Reds will have revenge on their minds when they face the Blues on Saturday.
"It is a very important game when you think what they did to us last season. That cost us the league and now we have the chance to beat them," he added.
Last season, Chelsea were very defensive minded when they visited Anfield as they lacked quality strikers. However, this season, as the Blues have been reinforced following the arrival of Diego Costa, Toure expects Saturday's clash to be a thrilling encounter.
"Last season, they never attacked, but this season they will attack. With the players they have they can't defend all the time. I think they will just try to score goals and we will try to score goals. It's going to be a great game, definitely," added the former Manchester City defender.
"Every game for Liverpool you want to win and Chelsea are playing well now. When you play at home in a game like that it is going to be attacking teams. Chelsea attack and Liverpool attack as well. I think you are going to see a great game."