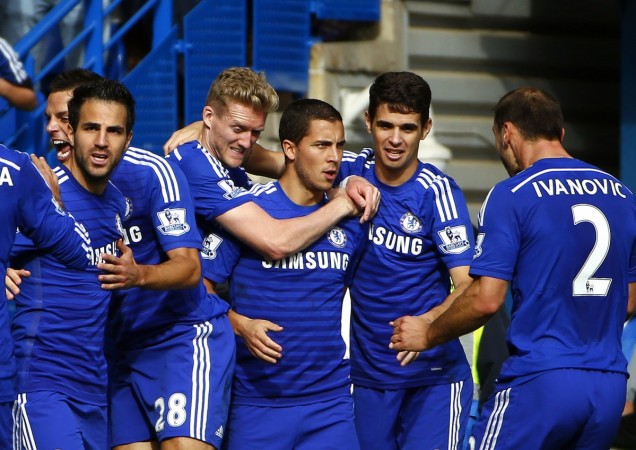 Belgian playmaker Eden Hazard has dismissed speculations of him leaving Chelsea, insisting that he wants to remain at Stamford Bridge and win "every" trophy with the Blues.
The 23-year-old, who arrived at Chelsea from Lille for a fee of £32 million in the summer of 2012, has been targeted by French giants Paris Saint-Germain following his excellent performance for the Blues in the last two seasons.
However, Hazard, who is reportedly going to be offered a new contract at Stamford Bridge, says that he is looking to continue with Chelsea and help them win plenty of trophies this season.
"I'm in one of the best clubs in the world and I can win every trophy because we have a very strong team. I don't want to leave," Hazard, who scored Chelsea's opening goal (from a penalty) against Arsenal on Sunday, told Sky Sports.
Last season, a squabble had broken out between Hazard and Chelsea boss José Mourinho after the former had criticised the latter's tactics, saying Blues were not "set up to play football"
The former Real Madrid has responded by saying that Hazard was not the "kind of player ready to sacrifice himself 100% for the team".
However, Hazard, who admits he was wrong to make all those remarks last season, says that his relationship with Mourinho has improved and they are now friends.
"Last season I did some mistakes but we [he and Mourinho] are friends. Not only for the football but outside the pitch we speak together and he gives me a lot of confidence and it's always a pleasure to play for him," he added.
The Belgian international also believes that the summer arrivals of Diego Costa and Cesc Fabregas has taken all the pressure off him, allowing him freedom to be more creative in the field.
"It's different to last season," he added. "I have a lot of freedom now because I remember last season a lot of games one, two or three players were against me, and now it's different because they have to take Costa or Fabregas, not just me."
"If I want to be one of the best I need to be in one of the best teams. I need help, I need a good team and that is what I have here."