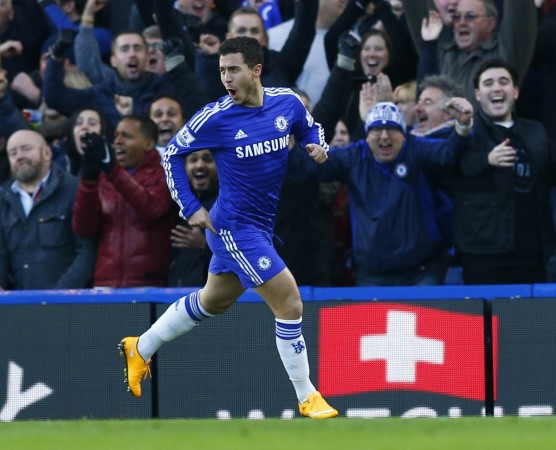 Chelsea star Eden Hazard says that he never considered making a move to Ligue 1 giants Paris Saint-Germain despite there being numerous reports linking him with a move to Parc des Princes.
The 24-year-old midfielder has managed to establish himself as one of the key players of the Chelsea squad since his £32 million switch from Lille in the summer of 2012.
Despite him doing very well at Stamford Bridge, Hazard was linked with a move away from Chelsea on many occasions, with PSG being the Belgian's main suitors.
However, Hazard, who recently put an end to all the rumours once and for all by signing a new contract till 2020 with the Blues, insists that he was never tempted to leave Chelsea and join Laurant Blanc's side.
"Personally, there has never been anything with PSG," he told TF1. "I knew from the start I wanted to stay. I don't want to move, I'm good here."
Last season, Chelsea were very lucky to beat PSG in the quarter-finals of the Champions League despite losing the first leg at Parc des Princes 3-1.
But Hazard, who converted from a penalty during Chelsea 1-3 defeat in the first leg, insists that his side's victory over the PSG in the Champions League last season "wasn't a miracle."
"Last year wasn't a miracle," he insisted. "If you look at the first leg, we didn't deserve to lose 3-1. It was a little fortunate, because we scored late on, but we didn't rob anyone."
The Belgian, however, is confident that the Blues will do much better against PSG this season.
"This year, it'll be a different encounter. We're on a good run, we have strengthened our squad. Paris are having a few more problems, but they have a lot of great players. They'll be ready.
"I think it's 50/50. For the football world, we're perhaps favourites, but you never know what will happen."
Hazard also dismissed notions that he was the only quality player at Chelsea last season despite admitting that everyone relied upon him more.
"Last year, I was not alone, that would be a lack of respect to the others, but I was counted on more," said the Belgian, adding that the Blues squad has become even more stronger this season.
"Now, I'm not alone on the pitch. But when I play, Chelsea generally play well too. We have other quality players. Fabregas came in and he did us a lot of good. Diego arrived, and he has scored a lot of goals for us."