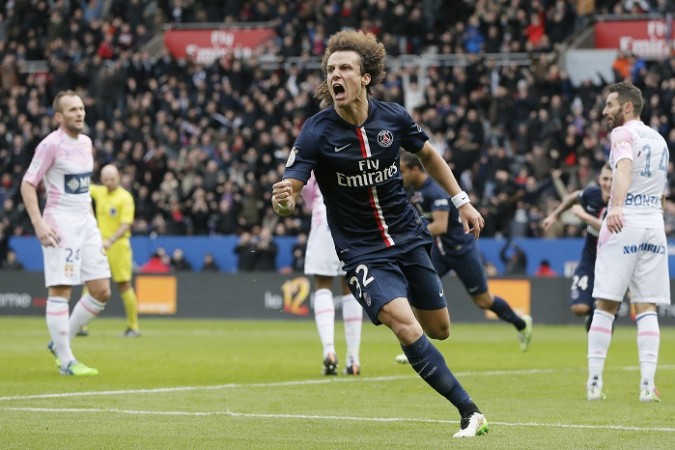 Paris Saint-Germain defender David Luiz feels that Chelsea have become a much better side this season following the summer arrivals of Cesc Fabregas and Diego Costa.
The 27-year-old centre-back, who spent three-and-a-half seasons at Chelsea before completing a £50 million switch from Chelsea to PSG last summer, is set to face his former side when the Ligue 1 giants play hosts to the Blues in the first leg round of sixteen match of the Champions League at Parc des Princes.
And the Brazilian, who was a part of the Chelsea team that beat PSG in the quarterfinals of the Champions League last season, believes that the Blues have become stronger following the arrivals of the two Spaina internationals.
"Chelsea are better this season," said Luiz, according to ESPN. "Above all, they are better balanced following the arrival of Fabregas. He's perhaps the player they were missing: he balances the midfield, makes the team play well and knows how to hold on to the ball from time-to-time."
"With the arrival of Diego Costa - a warrior forward who always wants to score and challenge defenders - and the continuity provided by Mourinho in the dugout, it's logical Chelsea are stronger this season."
Despite admitting that the Blues will be a formidable opponent on Tuesday due to them having a lot of experience in the Champions League, Luiz insists that he has "faith" in his team.
"We know Chelsea are an experienced team that has already won the Champions League," he added. "They are used to this, and they knocked out PSG last year. But we mustn't think about that too much. We have to show and up our level, and play to all our strengths on the pitch."
"PSG's elimination last year was tough, because it came down to away goals. We'll have to play to our strengths: going forward, playing to win. I have faith in my team."
Meanwhile, Luiz insists that he holds no grudges against Chelsea boss Jose Mourinho despite there being reports of the Brazilian having a strained relationship with his former manager.
"I still have a good relationship with him," said Luiz. "Mourinho is someone who works in the same way with all his players, without making any difference between them. People have tried to find a problem between Jose and me, but that problem has never existed."