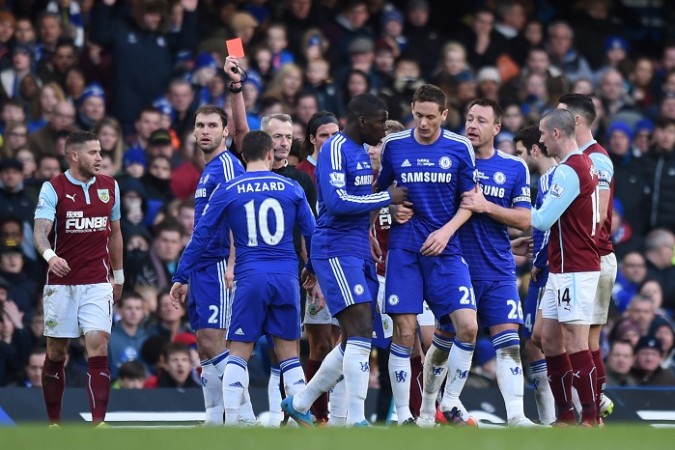 The Football Association have confirmed that Chelsea midfielder Nemanja Matic's suspension has been reduced to two games following an appeal.
The 26-year-old was shown a straight red card after he reacted to a bad challenge from Burnley defender Ashley Barnes during the Blues' 1-1 draw against the Clarets in the Premier League last weekend.
Although the Serbian automatically picked up a three-match ban following the sending off, Chelsea had appealed against the decision.
And now the Football Association have announced that Matic's suspension has been reduced to two games.
"An appeal by Chelsea that the three-match suspension for Nemanja Matic is excessive has been upheld by an Independent Regulatory Commission hearing today [Tuesday 24 February 2015]. The Regulatory Commission has reduced the Chelsea midfielder's suspension to two matches, to be served with immediate effect," read a statement in the FA's official website.
Roger Burden, chairman of the FA's regulatory commission, despite admitting that Barnes' challenge does not justify Matic's violent reaction, says that the Football Association decided to reduce his suspension after they felt that the three match suspension was "clearly excessive"
"The violent response of Mr. Matic to the nature of the tackle cannot be condoned and does not vindicate his subsequent actions. The members of the Commission did, however, accept the mitigation in respect of the level of force used by Mr. Matic and the nature of the contact he made with Mr. Barnes of Burnley FC."
"Having made those considerations we determined that the standard punishment of a three-match suspension would be clearly excessive and, therefore, ordered that the suspension be reduced to two matches."
However Chelsea, who were hoping for the ban to be reduced to only one game, expressed their disappointment after hearing the FA's verdict on Matic.
"The Chelsea Football Club Board is extremely disappointed and frustrated that the FA Regulatory Commission has today decided not to reduce Nemanja Matic's suspension to the maximum extent permitted under FA rules," read the statement.
"There has been universal condemnation of the reckless challenge made by Ashley Barnes on Matic and it is the club's view that he has been unjustly punished with a two-match ban for his reaction to a career-threatening tackle," it added.