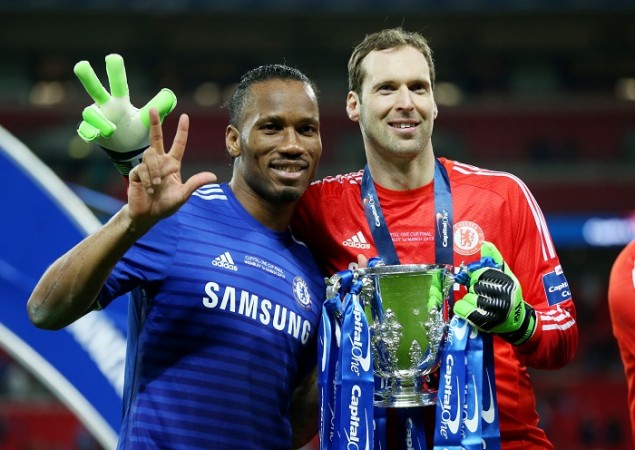 Chelsea striker Didier Drogba has urged goalkeeper Petr Cech to continue at Stamford Bridge, in view of the Czech international being strongly linked with a move to part ways with Stamford Bridge this summer.
The 32-year-old, who joined Chelsea from Ligue 1 side Rennes for a reported £7 million in the summer of 2004, was the Blues' first-choice goalkeeper for almost a decade, until he was displaced by Thibaut Courtois this season.
As a result, the Czech Republic international is adamant on leaving Stamford Bridge this summer, making it clear that he does not want to spend another season as Courtois' understudy.
Cech's agent has confirmed that his client has been given permission by Chelsea to open talks with other clubs ahead of a potential exit from Stamford Bridge this summer.
With the goalkeeper believed to be interested in staying on in London, Chelsea's arch rivals Arsenal are understood to be leading the race to sign Cech this summer.
But Drogba has urged his teammate to continue at Chelsea and compete for a place in the starting eleven of the first team with Courtois.
"I think the club should keep him because we know who Petr Cech is at this club," the Ivorian told Sky Sports.
"No matter what happens I think the club will respect his decision. If he wants to stay, he can stay. I think he is more than welcome here. If he wants to go it's his choice as well. It's up to him. But we want him to stay."
Meanwhile, the 37-year-old striker, who himself will be leaving Chelsea this summer, has hinted at coming back to Stamford Bridge as coach one he quits his playing career.
"I think we are going to find a way... if I come back it's for a reason," added the Ivorian.
Drogba, who earlier said that he wants to continue playing for at least one more season, revealed that he has already received offers from clubs.
"Since I put it on social media I was in the dressing room and I was receiving some calls from teams. Really unusual," he said. "It was funny and interesting also because it really showed that maybe I can still bring something to a team."
He said that he will be deciding on his next moves shortly.
"I am going to take a few days, few weeks to think about what is good for me next. But all I want to do is play."