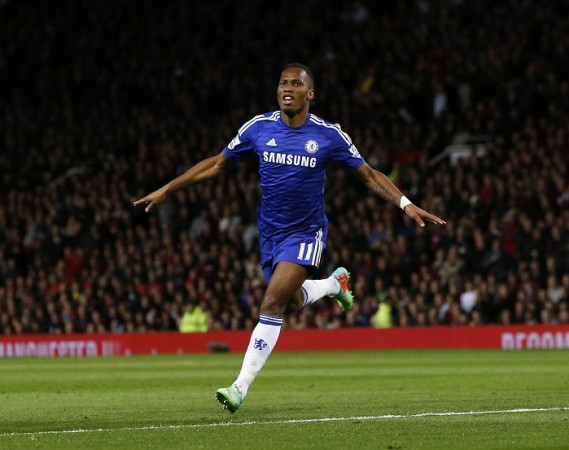 Chelsea legend Didier Drogba has confirmed that he will continue to play for the Blues beyond this season.
The 36-year-old, who signed a one year contract with the Blues after rejoining the club on a free transfer last summer, has been in decent for since his return, scoring six goals from 27 appearances in all competitions.
Although earlier some reports indicated that Drogba would be hanging up his boots and working with the Blues as a coach after the end of this season, the Ivorian has revealed that he will be continuing as a player at Stamford Bridge for another season.
"Next season, I will still be a player for Chelsea," the former Marseille striker told French TV programme Telefoot.
Drogba is currently Chelsea's third-choice striker, behind Diego Costa and Loic Remy, meaning he will only be handed a start if the other strikers are rested, suspended or injured.
However, the Ivorian, despite admitting that he would like to play more often, insists that he is "not miserable"
"It's obvious that I would like to play, but I'm not miserable,: he added.
Meanwhile, Remy says that he is satisfied with Chelsea's 1-1 draw against Manchester City despite claiming that the Blues were looking to win the game.
The Frenchman, who was brought in to lead the Blues' attack in place of the suspended Diego Costa, managed to impress, opening the scoring in the closing stages of the first half following a brilliant ball from Eden Hazard.
However, David Silva immediately levelled the scores and the match eventually ended in a draw despite City dominating the second half.
And Remy, who insists that the Blues "wanted to win the game," feels that the draw was a good result for Chelsea as they are still five points clear of the defending champions at the top of the English Premier League.
"We wanted to win the game but I think it was a positive result because Manchester City are still five points behind us," said the Chelsea striker.
Remy admits that the Blues struggled against Manchester City due to fatigue, having recently been involved in a 120-minute match with Liverpool in the second leg semifinal of the Capital One Cup.
"It has an impact when you play that type of game [against Liverpool], we tried to save our legs as much as possible but of course you will feel tired," he reasoned.
However, despite Chelsea's healthy lead over Manchester City, Remy insists that the title race is far from over and the Blues need to "fight" in each and every game.
"This league is really tough so until the last day nothing is really decided," he added "We have to fight in every game, it's going to be difficult. Some players are injured but the ones who aren't have to give their best to get results."