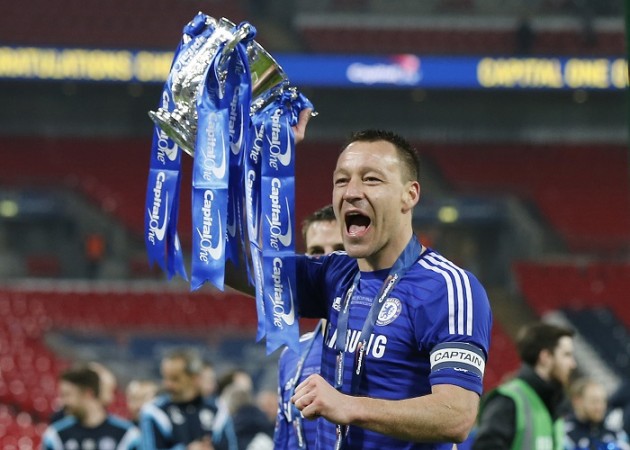 Chelsea captain John Terry, who is looking to earn a new deal at Stamford Bridge, insists that he still has a "few years" left in him.
The 34-year-old, who is on the final year of his Chelsea contract, has been in good form this season, starting in all of the Blues Premier League fixtures, and scoring many vital goals for the West London side.
However, no formal contract talks have taken place between Terry and Chelsea, and it is believed that the veteran centre-back will be released after the end of this season.
But Terry says that he is still "fighting" to earn a new deal at Stamford Bridge.
"I am fighting for myself and my family, and to prove people wrong," Terry told Sky Sports. "It doesn't come much bigger than that. I want to give it everything."
"I don't know how long I have left. Hopefully I have a few years left but if this is my last year then I hope it will go out on a bang."
"I have my little target to play next year but beyond that, two or three years (more), I don't know."
Last summer, Frank Lampard shocked everyone by joining Manchester City (on loan from MLS side New York City) after being released by Chelsea.
Asked if he would following his former Chelsea and England teammates' footsteps Terry replied: "No, and I also think there's a right time to go as well. Certainly I am feeling great at the minute and it would be the wrong time to go."
"But there does come a point where it would be the right time to go, to say it's time to move on and people will remember you that way."
Chelsea, who have a policy of granting only 12-month extensions to players over the age of 30, handed Terry a one-year deal at the last moment following the expiration of his contract.
Now the former England captain will again have to wait until the end of the season to earn a new term at Stamford Bridge.
Although many players would certainly have a problem with Chelsea contract policies, Terry insists that he has been benefited by the "uncertainty" of his future.
"The uncertainty has helped me positively, not having four or five years (under contract) as you get older," added Terry. "The roles have reversed and now the power is in the club's hands. That has inspired me."