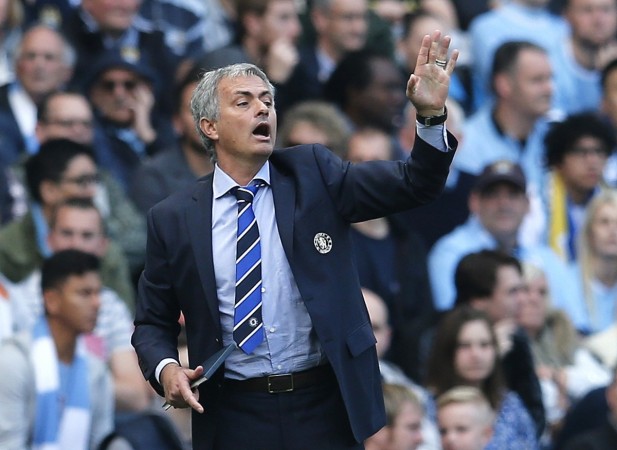 Chelsea boss Jose Mourinho says that he is satisfied with his team's performance and the 1-1 draw against defending champions Manchester City, despite being criticised by Manuel Pellegrini for his defensive tactics.
Although the Blues chose to defend and created very few chances during the game, they went ahead through Andre Schurrle in the 71st minute following Pablo Zambaleta's 66th minute sending off.
However, just as it looked like the Blues were closing in on another victory at the Etihad, their all-time record goalscorer Frank Lampard came off the bench and salvaged a point for Manchester City.
Despite losing two points at the Etihad, Mourinho says that he is pleased with the result.
"It is one point won because we arrive here leaders with two points more than [the team in] second and we leave the stadium with a three-points lead," Mourinho told Sky Sports after the match.
"I don't look to direct opponents, I don't look to other clubs in a special way. I look to the table and we are leaders with three points. We come here to a super-difficult stadium and a super-difficult opponent and we leave to better conditions than we arrived, so good. It was a very, very good performance."
However, the Portuguese feels that Chelsea could have put the game to bed had Diego Costa his the net instead of the post a little after the opener.
"We hit the post with a 1-0 lead and when you don't kill matches you are in danger, especially when you play against very good teams," he added. "We had a tactical reaction to try to win the game; they had an emotional reaction to try not to lose the game."
The former Real Madrid boss chose not to comment on Pellegrini's remarks about Chelsea playing like a small team, insisting that he is focused on only his side.
"Pellegrini many times says he never speaks about me and my team but he keeps doing the same thing," added Mourinho. "I am the one that does as he says. I don't comment on his words. Don't ask me about his words, I am not interested in that."
Mourinho also refused to comment on Lampard's goal, saying that the midfielder is no longer a Chelsea player.
"I don't speak about players from other teams, I am sorry," Mourinho added. "I don't speak about Frank. To speak about Frank is to speak about my past with Frank, the player he was for what he means in my career."