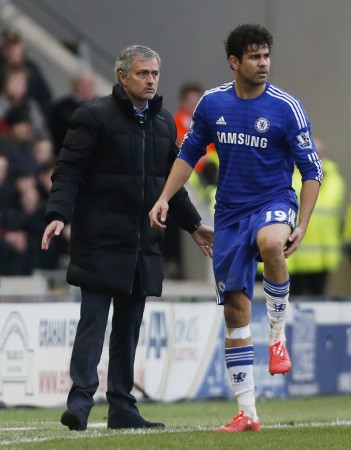 Chelsea boss Jose Mourinho insists striker Diego Costa will not be undergoing surgery on his hamstring and the Spain international will be included in the squad during the Blues' Premier League clash with Stoke City on Saturday.
The 26-year-old striker sustained a hamstring injury during Chelsea's 3-2 win over Hull City on 22 March. This resulted in him missing Spain's clash with Ukraine and Netherlands in a 2016 Euro qualifying fixture and a friendly one respectively.
This is the second time this season that Costa has suffered from a hamstring problem, but Mourinho insists the Brazil-born striker will only be undergoing surgery if nothing else works.
"We don't believe in operations. Our medical department and myself, we believe an operation is the last resort for every injury, so we try and be conservative, to train and recover and try and compensate the problems. I don't believe we'll ever go in the surgery direction," Mourinho told Chelsea official website.
"To work as he does in the season, in prevention to make the muscle stronger, but at the same time elastic and flexible [is the best approach]. Recover well with no big accumulation of fatigue -- this is what we do."
Although Mourinho insists that Costa is no longer injured, he says that he has still not decided whether the striker will be starting against Stoke City on Saturday.
"Diego trained yesterday and today with the group and he is not injured," Mourinho added. "I don't know if I start with him or not because after a muscular injury and then just two days with the group, I need to analyse the situation with him and make a decision."
The former Porto boss says that Costa's speedy recovery has resulted due to him working hard during the international break.
"It was the same injury, a hamstring, and he dedicated himself to recovering," he added. "No days off, the medical department were saying. Morning, afternoon, working hard."
Meanwhile, the Portuguese confirmed that Eden Hazard will be starting against Stoke City despite the midfielder suffering from fatigue due to his involvement with Belgium during the international break.
"Hazard is tired because he played two matches in three days," he added. "Because he played in Israel, travelled, didn't sleep, arrived in Belgium at 5 a.m. or 6 a.m. and he's been playing. We think he can recover in these couple of days, but he plays tomorrow. That's football."