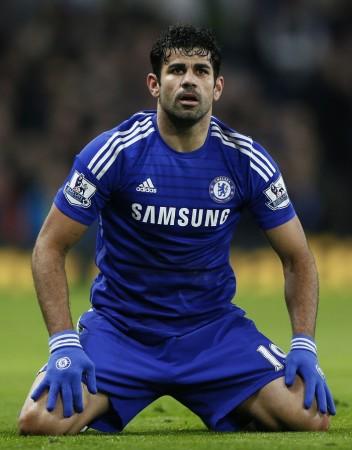 Chelsea have been dealt with a big blow after manager Jose Mourinho revealed that Diego Costa is likely to be side-lined for the whole of April owing to a hamstring injury.
The Brazilian-born striker was pulled out of Spain's international games against Ukraine and Holland after picking up an injury on his left hamstring during Blues' win at Hull City last week.
The Chelsea medical staff were confident that the player had recovered and this resulted in manager Jose Mourinho including Costa for Blues' clash against Stoke City.
The Spain striker started from the bench against the Potters and was introduced at half time. However, he lasted for only 11 minutes as he injured his hamstring again.
Earlier Costa was expected to be sidelined for two weeks, but Mourinho has confirmed that the injury turned out to be more serious than it appeared and Costa is likely to be on the sidelines until next month.
"Only Diego is injured, everybody else is fine and ready," said the Portuguese, according to Chelsea's official website, ahead of his side's Premier League clash against Queens Park Rangers on Sunday.
"I think we have eight matches to play, if he plays four it is normal. If he plays three he is a bit below what I am expecting. If he plays five that is more than I am expecting. I am not concerned (by his injury)."
Meanwhile, Chelsea look like they are going to lift the league title in style this season as they are on the verge of breaking the record of most number of days spent at the top of the Premier League in a single campaign.
The Blues have been at the top of the Premier League ever since they beat Everton 6-3 at Goodison Park on 30 August, and it does not look like any team will be catching up with them as the season reaches its climax.
The current record is held by Manchester United, who spent 262 days at the top of the table in the 1993/94 season when Sir Alex Ferguson was their manager.
The West London side have been at the top of the table for exactly 230 days as of Friday, 10 April, and they will break Manchester United's record by 12 points if they remain at the top until the end of the season on 20 May.