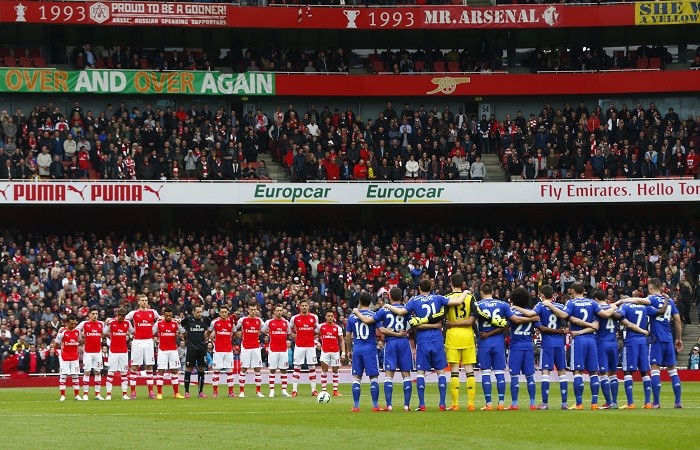 After the recent Paris metro racism incident, a group of Chelsea fans were involved in another shameful incident as they were seen defacing the statue of former Arsenal manager Herbert Chapman outside the Emirates Stadium on Sunday.
The incident, which was caught on video, revealed a couple of Chelsea supporters putting stickers on the face Chapman's statue, with several others recording videos of the whole act, after the Blues' goalless English Premier League draw against Arsenal.
Chapman was one of the most successful managers of the North London club, winning two Premier League titles and a FA Cup during his nine-year reign at the club from 1925 to1934.
The former Huddersfield boss also pioneered the famous WM (3-2-2-3) formation and suggested the use of white footballs and numbered shirts during his time at Arsenal.
This incident has further tarnished the image of Chelsea fans as another group of the Blues' supporters were recently involved in a racist incident, denying entry to a black passenger in a metro train in Paris.
However, reports claim that another section of the supporters came a few minutes later and removed the stickers from Chapman's statue and apologised on behalf of all Chelsea fans, which was good to see.
Check the video of the incident below:
Meanwhile, Jose Mourinho feels that the PFA Team of the Year should have had only consisted of Chelsea players, insistng that he was especially surprised to see Cesc Fabregas left out.
The PFA Premier League Team of the Year consisted of six Chelsea players -Branislav Ivanovic, John Terry, Gary Cahill, Nemanja Matic, Hazard and Diego Costa – along with David de Gea, Ryan Bertrand, Philippe Coutinho, Alexis Sanchez and Harry Kane.
Although Mourinho insists he has respect for the voters as well as the players from other clubs that were included, he feels that the team lacks balance and more Chelsea players should have been included.
"There should have been more Chelsea players. All of them should have been Chelsea," the former Real Madrid boss told Sky Sports.
"I respect every player in that team and especially everyone that chose because they have the right to choose. Great players are in that team but also eight players are outside that team.
"Just one example is Cesc Fabregas, with the season he is having, the number of assists, the quality of his game. For him not to be there is strange.
"And that team wouldn't win the Premier League. It has four defenders, Matic, and five to attack so it's impossible. It's a team without any balance and it is missing a midfield player."