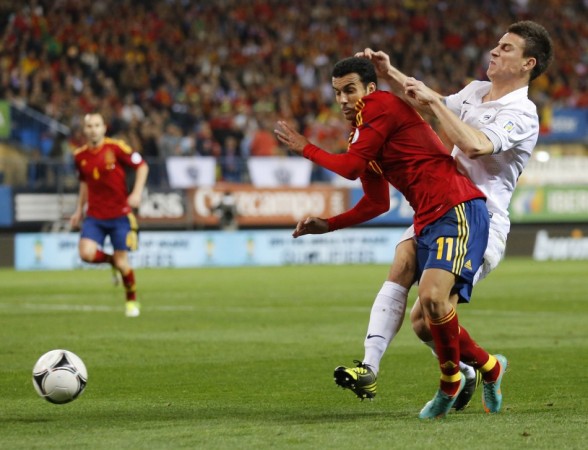 Premier League champions Chelsea have beaten Manchester United in securing the future of Barcelona forward Pedro Rodriguez. The 28-year-old Spain international is already in London at the moment and his medical is set to be on Thursday.
The signing will be officially confirmed following the successful completion of the medical, and the amount agreed by Barca for the transfer of Pedro to Chelsea is reportedly £21.2m.
The Guardian has stated that the bid by the Blues for the player was spearheaded by Stamford Bridge director Marina Granovskaia. It is believed that the bid has been around £19m, and the other add-ons take the amount to £21.2m.
In the process, Pedro's release clause in his Camp Nou contract has also been triggered.
The World Cup winner with La Roja flew to London on Wednesday and his medical will take place at the club's Cobham training centre in Surrey.
It has been another failure for Manchester United to land a Spanish player this summer. The club failed to land Real Madrid star defender Sergio Ramos this summer, despite continuous pursuit of the Spaniard.
Even just a couple of days back, it was reported that United vice chairman Ed Woodward was in Catalunya to negotiate with the Barcelona bigwigs to confirm the possibility of landing Pedro at Old Trafford this summer.
A fee in the region of £22 million was launched by United, but the amount could please neither the player nor the club.
Juan Mata is the only Spanish player in the United roster at the moment, apart from David de Gea and Victor Valdes.
While Mata has been quite instrumental in the midfield for the Red Devils in their first two Premier League games this season, as well as the Champions League playoff game against Club Brugge, the fate of custodians De Gea and Valdes have remained uncertain all through.
The treatment meted out to the duo by Louis van Gaal at United can also be believed to be a concern for the 28-year-old Pedro to join Van Gaal at the Theatre of Dreams.
It has been reported that telephonic conversations with Jose Mourinho and ex-Barcelona teammate Cesc Fabregas stepped up Pedro's ambitions to become a Chelsea player this summer.
While the possible game time for Pedro at Stamford Bridge cannot be very clear at the moment, the future of Chelsea winger Juan Cuadrado, however – bought by Chelsea only in February this year for a whopping fee of £23.3m – looks uncertain now.