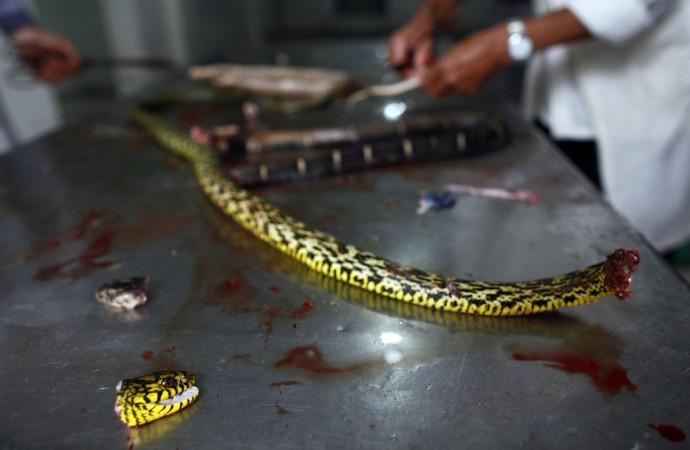 A chef who was cooking snake soup was killed in China after the cobra head, he severed 20 minutes ago, bit his hand.
The victim has been identified as Peng Fan. The chef was dicing up the cobra for a snake soup dish, which is a delicacy in Guangdong and several other parts of China and Asia, when the tragic accident took place, according to the Mirror.
Police stated that Fan was bitten by the severed cobra head, just before he took it to dispose it. Anti-venom could have saved his life but the poison acted too swiftly, and Peng was declared dead on arrival at the hospital.
"It is a highly unusual case, but it appears to be just an accident," a police spokesman stressed. "He prepared the snake himself and was just unlucky."
Diners in the restaurant were startled to hear painful screams from the kitchen.
"We were in the restaurant having a meal for my wife's birthday when suddenly there was a lot of commotion. We did not know what was happening but could hear screams coming from the kitchen.
"There were calls for a doctor in the restaurant but unfortunately by the time medical assistance arrived the man had already died," Daily Mail quoted guest Lin Sun.
According to snake expert Yang Hong-Chang, who spent over four decades to study cobras, all reptiles can function for up to an hour after losing its body parts, or even their entire body.
"It is perfectly possible that the head remained alive and bit Peng's hand. By the time a snake has lost its head, it's effectively dead as basic body functions have ceased, but there is still some reflexive action," Hong-Chang said.
"It means snakes have the capability of biting and injecting venom even after the head has been severed," he added.
The cobra that killed Chef Fan was an Indochinese spitting cobra.
"Cobra is actually a very nutritious and tasty meal and the chef did not deserve to die like that," snake soup enthusiat Sam Adams told Free Republic.
" I'm surprised that basic safety precautions weren't followed, such as having an antidote on hand and crushing the snake's head, instead of just chopping it off, and letting it flop around."