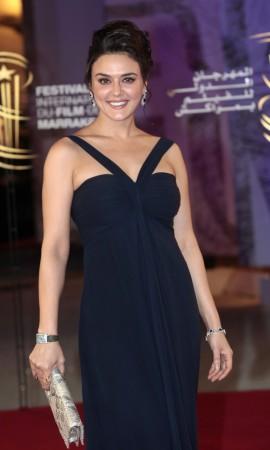 Bollywood actress Preity Zinta, who was recently issued a non-bailable warrant in a cheque bounce case, said that complainant Abbas Tyrewala has lied and betrayed her trust.
"He (Abbas Tyrewala) has lied. He has deposited a cheque that was supposed to be used only if and when he did the work required for our film. This, he did not do. So we don't owe him any money," the actress said, reported Daily News Analysis.
Tyrewala had filed a complaint against Zinta for non-payment for his work in "Ishq in Paris," Zinta's debut co-produced film .
"He (Tyrewala) signed no papers, did no work for us and yet took a cheque from us that was not meant to be taken. If he has any any proof or any paperwork proving he has done any work for us he is most welcome to take a payment," said the 38-year-old actress.
She went on to accuse Tyrewala of breach of trust for the misuse of cheque saying, "I cannot and will not pay someone for work he has not done. He abused my trust and goodwill and took a cheque from me which was meant to be used only if he worked for us."
"I did not register a case of a stolen cheque as I didn't want to embarrass him. But now the matter is in court and it's all on record. I won't be blackmailed just because I am a known face and name."
The actress in her defense said she has proof against the dialogue writer and has submitted it to court.
"We have submitted our proof to the court. We will take appropriate action against him now that he has taken the matter to court and involved the media for publicity. I am not stupid to put myself at risk with a bounced cheque for a relatively meager sum of money."
Zinta, who is presently shooting for "Bhaiyaji Superhit" with Sunny Deol, had taken to Twitter on Saturday to express her disapproval at the media for defaming her image with one-sided reports.
"Dear Media, pls investigate stories involving celebrities PROPERLY before being in a rush to carry it 4 TRP as ur indulging in defamation," she tweeted.
"Surprisingly I have not seen my statements made to the press any where & its sad how any news is news today irrespective of the truth."