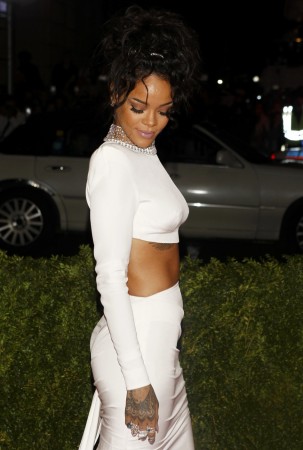 Charlie Sheen has a new enemy on the block - Rihanna.
The "Anger Management" actor on Thursday unleashed a Twitter rant at Rihanna following her refusal to meet his fiancée Brett Rossi, after they ran into her at Giorgio Baldi restaurant in Santa Monica on Wednesday.
Sheen was treating his fiancée to a birthday dinner when they came to known that Rihanna was dining in the same restaurant. When he allegedly put in a request to meet the singer, she declined, Sheen said in his tweet.
"Well, the word we received back was that there were too many paps outside and it just wasn't possible at this time.
"At this time? AT THIS TIME?? lemme guess, we're to reschedule another random 11 million to 1 encounter with her some other night...?"
He continued saying that although he wasn't dying to meet Rihanna, Rossi is a huge fan and she was disappointed with Rihanna's response.
"Sorry we're not KOOL enough to warrant a blessing from the Princess. (or in this case the Village idiot)," he added.
He also took a shot at Rihanna's appearance saying she looks as if she was dressed up for Halloween.
"oh and Riahnna, Halloween isn't for a while. but good on you for testing out your costume in public. it's close; a more muted pink might be the answer, as in: none," Sheen wrote.
Not one to keep quiet, Rihanna hit back with a tweet of her own hinting that Sheen shouldn't make it a big issue.
"'Goooorrrrrrlllllll......If that old queen don't get his diapers out of a bunch,' she wrote.
Responding to the "queen" jab, Sheen penned a poem of sorts mocking Rihanna's command of the English language.
"Firstly I want to thank you for recognizing me as Royalty. I'm flattered. And secondly; do the good Queen a favor and go tend to the dungeon in my Castle," the actor wrote, according to TMZ.
Interestingly, Rihanna's "queen" jab coupled with her temporary ban from Instagram and her alleged cyber-bullying has many wonder if her reign on social media is over.
Reports have it that Rihanna is being increasingly isolated by her once loyal fans after she poked fun at a fan who tried to recreate a Alexandre Vauthier jumpsuit the singer wore in 2010 for her Hollywood-themed prom.
The singer tweeted the picture of 16-year-old Alexis Carter dressed in the jumpsuit alongside a photo of her wearing the attire outfit, and appeared to be amused with the #PromBat and a comment that read "Dark Thot Rises."
Offended by the tweets, Carter told Fox Baltimore: "Why throw shade on it when you had on the exact same thing. The poses was different but the outfit wasn't ... She doesn't love her fans like she says she does."