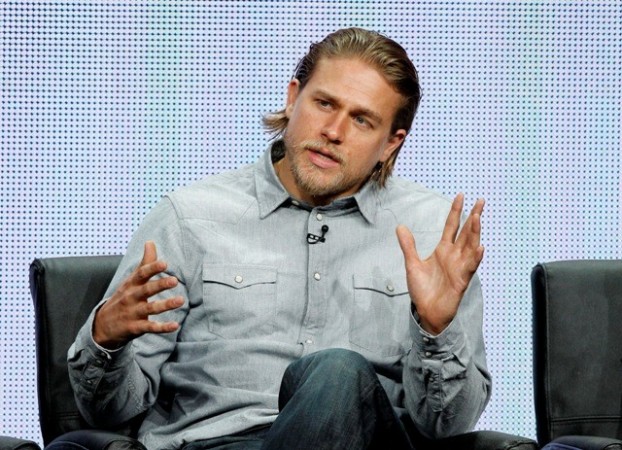 'Sons of Anarchy' actor Charlie Hunnam has ditched his bearded biker look for a clean-shaven suave look. The actor was spotted in a clean-shaven look while walking out of a grocery store in Toronto. The actor had his wet hair neatly combed back and he coupled his new look with a plain a gray hoodie, jeans and Nike sneakers.
The new look is a departure from his signature style, which he has been sporting for the role of Jax teller in the FX, hit series "Sons of Anarchy".
Hunnam, who was previously considered for the controversial role of Christian Grey in "Fifty Shades of Grey," is currently shooting for the film "Crimson Peak" along with Guillermo Del Toro. Hunnam and Toro had previously worked together in "Pacific Rim."
When Hunnam was selected to play the role of Christian Grey in the movie, "Fifty Shades of Grey", his fans were immensely excited. However, he turned down the role due to fear of getting trapped in the character. Later the producers of the film said that Hunnam was too busy doing the TV series and did not have enough time to prepare for the role.
Grey's role is now being played by Jamie Dornan and regarding Dornan playing the lead, Hunnam said, "I'm sure he'll do a great job," adding: "I don't really know his work, but I know Sam [Taylor-Johnson], the director, is amazing, and she has fantastic taste, so I'm sure he'll do a great job," reported TMZ.
Meanwhile, Glee star Lea Michelle could be starred opposite Hunnam in "Sons of Anarchy". Buzz suggests that makers of the hit television show were quite impressed by Michelle's appearance at Kid's Choice Awards and they are considering her for a pivotal role