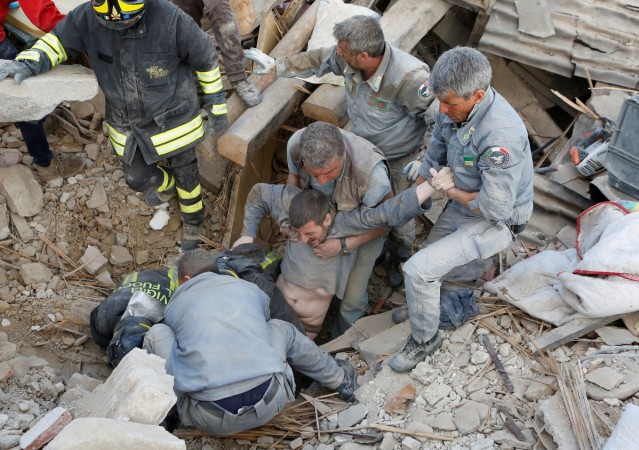 French satirical weekly magazine Charlie Hebdo has courted controversy yet again by depicting survivors of Italy's recent earthquakes as 'pasta dishes.' Last week, an earthquake measuring 6.2 on the Richter scale had levelled the town of Amatrice and left many villages in ruins. Around 300 people have been killed and dozens more are still missing.
The French publication subsequently featured a cartoon titled "Earthquake, Italian-style" that depicted victims with various degrees of injury that were likened to an Italian recipe, according to CNN.
A woman with a badly bruised or burned face was "penne au gratin," a severely bleeding man was labelled "penne with tomato sauce" and a pile of victims pancaked beneath a collapsed building, their legs sticking out from the bloodied rubble, were "lasagna".
In 2015, Charlie Hebdo had also come under heavy criticism for publishing a controversial cartoon of young Syrian refugee Alan Kurdi, who drowned while fleeing Syria.
The cartoon also referenced affected town Amatrice's reputation for its renowned all'amatriciana pasta sauce recipe. It evidentially irked the town's mayor, Sergio Pirozzi, who described the cartoon as an "unpleasant and embarrassing satire."
"I'm sure it doesn't correspond to the real sentiment of the French people. Irony is always welcome, but you can't satirize disasters and the dead." Sergio Pirozzi was quoted as saying by Italian news agency ANSA.
Many also took to Twitter to express their disapproval with the magazine and #CharlieHebdo soon began trending soon on social media.
"They hide themselves behind 'satire'. Leave your office, come here and stand in front of those people who've lost everything," wrote one Twitter user.
"This is not satire anymore, this is pure disrespect for those who lost their lives, I'm disgusted," wrote another Twitter user.