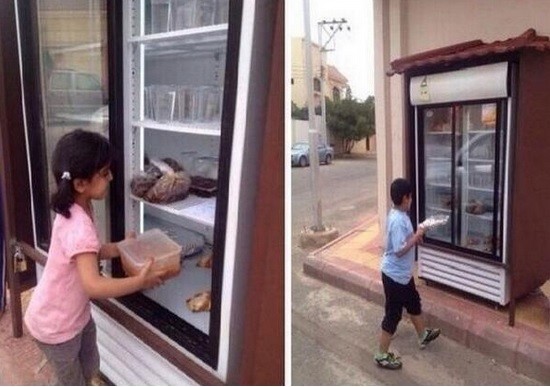 In recent years, most news that comes from the Middle East is either bad news or really bad news, but here is a Good Samaritan who is changing the norm with a charity refrigerator. A Saudi man from the city of Hail has reportedly installed a refrigerator on the streets outside his home to store food for those in need.
The benevolent man apparently wanted to spare the poor the shame of begging for food, according to Gulf News. The Saudi man has requested everyone to leave leftovers in the refrigerator installed in Hail, so that those in need can take the food out of the fridge without having to beg for food.
The charitable man who prefers to remain anonymous was brought to international attention when a religious scholar, Shaikh Mohammad Al Araifi, expressed his gratitude towards the generous man from Hail. His tweet can be roughly translated to, "I've always said the people of Hail are generous. A man puts a fridge outside his house for leftover food; an indirect act of charity for the needy. Oh how I love you, Hail!"
أنا من زمان أقول: إن أهل #حائل كرماء رجل وضع أمام بيته ثلاجةً لفائض الطعام صدقة غير مباشرة للمحتاج يا بعد حيي يا حائل pic.twitter.com/fMYpLU4T2R

— د. محمد العريفي (@MohamadAlarefe) May 1, 2014
The Saudi man has received applauds from all over the world, with many internet users voicing the need for more people to try a hand at the avant-garde "charity refrigerator". A blogger with the alias "sniper", for example posted, "That is exactly what we needed: A simple, but bright idea that goes a long way in helping people...The idea should now be adopted and all large mosques in the country should place fridges to take and distribute food".
There are also those bloggers who suggested that the food in the charity refrigerator should not be limited to left-overs and encouraged patrons to place freshly-prepared food items in there as well.
Charity is a very important aspect of Islam; feeding the poor and needy and supporting orphans, relatives and travellers have all been mentioned time and again in the holy book of Quran and is supposed to be a way of life for a devout Muslim.