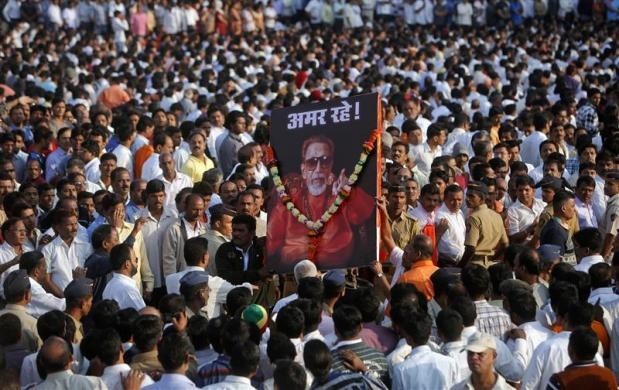 A Facebook post, containing controversial pictures with alleged derogatory references to Chhatrapati Shivaji Maharaj and late Shiv Sena leader Bal Thackeray, created almost riot-like situations in parts of Mumbai and Pune.
Several Shiv Sena workers took to streets, pelting stones and damaging government buses to show their protest over the Facebook post. To appease the agitators, the Mumbai police filed an FIR against an unidentified person, for posting the pictures.
After spotting the Facebook post which contained the alleged derogatory references, Shiv Sena activist Avinash Bagal and his unit went to the Mulund police station and lodged a complaint.
The FIR was filed against the unidentified person on Saturday night, under IPC section 295A (deliberate and malicious acts, intended to outrage religious feelings of any class by insulting its religion or religious beliefs) and relevant sections of the IT Act, an official at Mulund Police Station told PTI.
The Maharashtra police's cyber cell had reportedly banned the first Facebook post but later another post cropped up, which also had to be blocked.
In 2012, two girls were arrested over a controversial Facebook post on the late Thackeray. The girls, via the Facebook post, questioned the shutdown in Mumbai for the Shiv Sena patriarch's funeral.
The incident sparked an angry reaction from Shiv Sena workers, who then attacked a clinic that belongs to one of the girl's uncle. The two girls - Shaheen Dhada and Renu Shrinivas - were sent to a 14-day judicial custody and were later granted bail.
In the Facebook post, Shaheen had said that one should not hold a bandh for Thackeray's funeral, and instead it should be held for freedom fighters such as Bhagat Singh and Sukhdev Thapar. Her friend Renu had liked the post. The police arrested both of them under section 505(2) (statements creating or promoting enmity, hatred or ill-will between classes).
There seems to be an increase in extreme reactions towards posts on social media. In a similar incident last week, five youth were detained by the Bangalore police, following a complaint from a BJP worker that they are spreading an anti-Modi message on WhatsApp.
The controversial MMS showed a corpse morphed with Modi's face with the text "Ab Ki Baar Antim Sanskaar", which was a pun on BJP's election slogan "Ab Ki Bar Modi Sarkar".
One of the youth, Waqas Barmawar, a 25-year-old MBA graduate, was arrested for spreading hate and but was later released, after the police investigation found that he had only forwarded the controversial message on WhatsApp.
Similarly in Goa, Devu Chodankar, a 31-year-old shipping professional, faces arrest for a post that was put up during the Lok Sabha election campaign.
In his Facebook post, Chodankar had wrote: "There is imminent threat of Holocaust as it happened in Gujarat th(r)ough the garb of cunning government policies of Parrikar."
The post was directed against fears that the right-wing group will be harsh on the Christians in Goa. It was later deleted and Chodankar even apologised for his choice of words. But Goan businessman Atul Pai Kane, who heads the BJP's committee on investment and industrial policy, took offence and lodged an FIR against Chodankar.