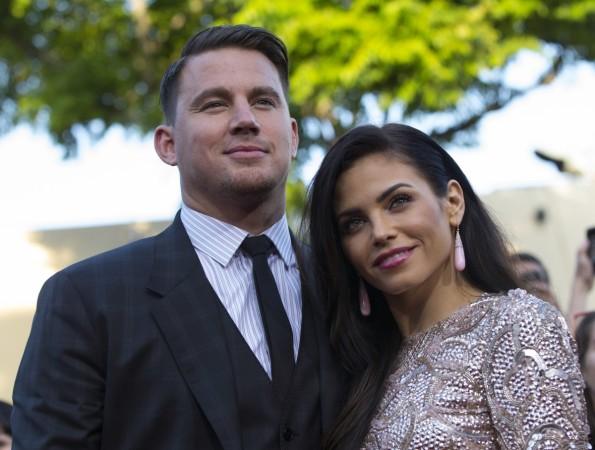 A new report claims that Channing Tatum's wife Jenna Dewan-Tatum is not too pleased with her husband's growing closeness to his "Magic Mike XXL" co-star Amber Heard.
Heard plays Tatum's love interest in the movie and their off-screen chemistry has set tongues wagging.
"They were noticeably flirty" and "everybody saw it," a source claimed to OK! magazine, adding that their connection was so obvious that when Tatum's wife stopped by the movie set, things became tense. "You could feel the tension when Jenna visited the set," the source, who was at the Myrtle Beach, South Carolina, set of the movie, said.
The OK! report further noted that Jenna, 33, has started bringing their one-year-old daughter, Everly, to the set often to keep him focused on his family, and diffuse whatever is going on between him and Heard, who is engaged to Johnny Depp.
It is yet unclear if there is any truth to these claims, but on Tuesday night at a screening of Sony Pictures Classics' Foxcatcher in New York City, Tatum was all praises for his wife, who he described as his rock.
"She keeps us all sane," the 34-year-old actor told reporters, according to People. "Jenna puts everything in perspective for me, always. I'll find myself spinning out or angry or whatever, or even happy, and she always somehow ends up righting the ship."
"I just want to have that, more of that, more time with the family," the actor who married Jenna after falling in love with her while filming "Step Up," added.
Recently, Tatum alao revealed his plans to expand his family, saying everything would depend on whether his wife's "Witches of East End" would get picked up for a third season.
Last week Lifetime cancelled the show due to low ratings, despite it being a fan-favourite show. A number of fans have since launched internet campaigns seeking for the show's revival, and an ipetitions.com appeal was given a boost when Tatum added his name to the list.
"I love this show. I signed it," Tatum wrote on Twitter, sharing a link to the petition and urging fans to join him.