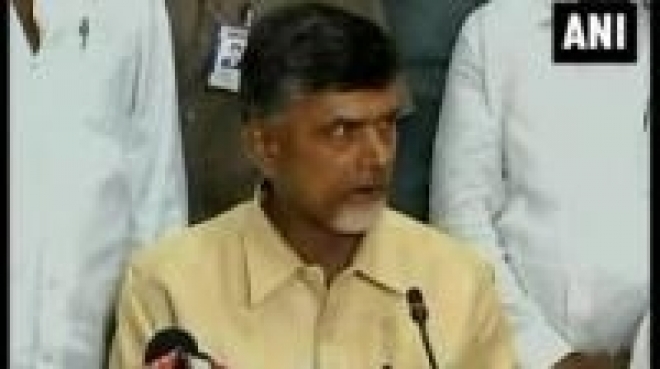 Telugu Desam Party (TDP) chief and Andhra Pradesh Chief Minister-designate N Chandrababu Naidu has stated that his party would demand the K Chandrasekhar Rao-led government in Telangana to implement all promises made during the election campaign.
Naidu was addressing a meeting of TDP Telangana unit at the party's headquarters NTR Bhavan in Hyderabad, after reviewing their performance in the last elections. Naidu vowed to bring TDP to power in Telangana as well.
"I would not move out of Hyderabad till I bring TDP to power in Telangana. I will rule (Andhra Pradesh) from Hyderabad only," Naidu stressed.
Though Hyderabad was declared the joint-capital of both states for 10 years, it was earlier speculated that Naidu would function as the AP Chief Minister from the Seemandhra region, especially after Telangana came into existence on 2 June.
Naidu reiterated that TDP would soon be announced as a national party, in order to spread it in other states.
The TDP chief also said that people are keenly observing if the Telangana Rashtra Samithi (TRS) government would implement its main election promise of farmer loans waiver. During the election campaign, TRS had assured people about writing off farmer loans. Now, the government is putting conditions on loan waiving.
The Telangana government has now stated that the loan waiver scheme applies only for the loans taken during 2013-14 financial year, and the loan limit is Rs 1 lakh. Naidu said that people have now realised the real attitude of the TRS government, and are looking at TDP for help.
Naidu also pointed out that due to the initiatives of TDP, Telangana will have a surplus budget. TDP developed Hyderabad into an international city during its regime in the past, Naidu claimed.
The CM-designate re-launched his tirade against the Congress as well. He stated that Congress cannot exist in the state in the near future.
Naidu also reminded the meeting that a fund of Rs 20 crore has been instituted for the welfare of party workers. He called upon the cadre to work at the grassroots level to strengthen the party.
KCR to skip Naidu's swearing-in ceremony
Naidu had extended his greetings to KCR, when the latter took oath as Telangana's first CM on 2 June but did not attend the function as KCR did not personally invite him.
And now, despite Naidu's public invitation to KCR, he will skip Naidu's coronation as Chief Minister of Andhra Pradesh on 8 June, claiming that he would be in Delhi during the occasion.
KCR is set to leave for Delhi on Friday night to meet Prime Minister Narendra Modi and other union ministers on Saturday.
Naidu has also invited YSRCP president YS Jaganmohan Reddy for his coronation. But Reddy has not yet responded to the invitation so far, according to media reports.