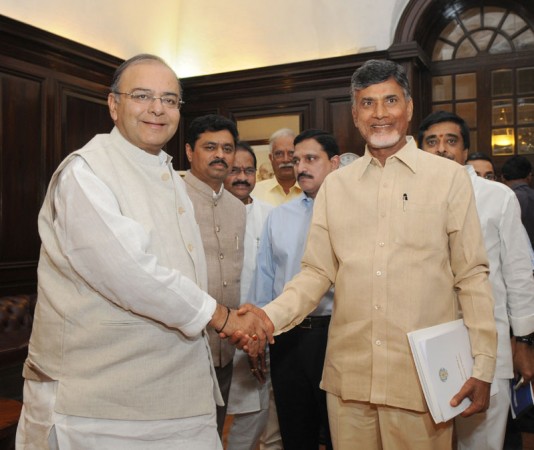 Andhra Pradesh Chief Minister Nara Chandrababu Naidu on Thursday sought the Union government to immediately implement provisions in the AP Reorganisation Act. Naidu urged Union finance minister Arun Jaitley to fully bear the state's budget deficit of ₹15,000 crore this year.
Naidu appealed to Jaitley to provide funds in Central budget for setting up of national institutions like IIT, AIIMS and IIM. He also urged Jaitley to allocate ₹7,000 crore for Polavaram multi-purpose irrigation project, The Hindu reported.
When Naidu met Union railways minister Sadananda Gowda, he urged him to introduce fast lane trains between Narsapur-Machilipatnam, Kadapa-Vijayawada, Srikakulam-Vijayawada, Chennai-Vijayawada and Tirupati-Vijayawada. Naidu also urged Gowda to complete several pending railway lines and other projects, like developing separate railway zones for Visakhapatnam.
Naidu met Union power minister Piyush Goyal, who assured him of quality power at affordable tariff within a year. Besides, Goyal has facilitated Andhra Pradesh to utilise railway infrastructure of the Union government-owned National Thermal Power Corporation (NTPC) to generate 500 MW power. NTPC will lend AP its railways to transport coal to the state's thermal power projects.
Naidu met Union urban development minister M Venkaiah Naidu during Thursday's trip and sought a metro rail project linking Vijayawada, Guntur and Tenali in coastal Andhra Pradesh and another metro rail project for Visakhapatnam.
The AP Chief Minister urged Venkaiah Naidu to sanction ₹2,500 crore for the establishment of new capital city. He also requested the Union minister to develop Vijayawada, Guntur, Telnali, Visakhapatnam and Tirupati into "smart cities". Venkaiah Naidu promised the AP CM to cooperate with the state government in building the best capital city.
Naidu also met Union Minister of State for Petroleum and Natural Gas Dharmendra Pradhan and discussed with him the proposals of setting up a top class petroleum university, LNG Terminal and greenfield reginery in AP. Setting up of a gas grid and rationalising LPG connections with the help of IT-enabled database system was also discussed with Pradhan, an official release stated.
During the day, the AP CM also met home minister Rajnath Singh, human resources minister Smriti Irani, water resources minister Uma Bharti, civil aviation minister Ashok Gajapati Raju and discussed the several developmental projects in the state.
Besides several ministers, Naidu also met Indo-US Business Council and Confederation of Indian Industry (CII) delegations and invited them to invest in Andhra Pradesh.
Naidu was on a two-day trip in New Delhi but cancelled Friday's schedule of meeting Prime Minister Narendra Modi and other Union ministers in Delhi to rush to the fire mishap spot in Nagaram village of West Godavari district in AP, where 14 were killed and many suffered burn injuries when a GAIL pipeline blast occurred.