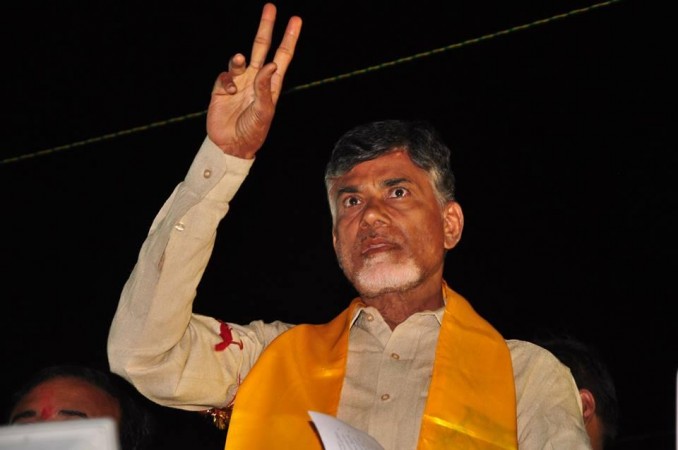 Telugu Desam Party (TDP) President Chandrababu Naidu will be sworn in as the Chief Minister of Andhra Pradesh on Sunday (8 June) evening.
Governor ESL Narasimhan will administer Naidu's oath of office at a grand event to be held at Nagarjuna Nagar between Vijayawada and Guntur at 7.27 pm. The TDP leader will assume office for the third time after 1995 and 1999, when he served as the Chief Minister of Andhra Pradesh.
For the last 10 years, he had served as the leader of opposition during the Congress regime. TDP had registered a big win and stormed to power in the 2014 assembly elections.
Naidu will be become the first Chief Minister of the newly formed Andhra Pradesh state with 13 districts. As many as 15 cabinet ministers are also expected to be sworn in along with Naidu on Sunday.
Massive Arrangements for Swearing-in Ceremony
Grand arrangements are being made for the swearing-in ceremony on Sunday evening to make it a "memorable" event. Hundreds of people are working to set up three daises and barricade a huge area between Vijayawada and Guntur, which will accommodate more than 5 lakh people, reported The Times of India.
The entire stretch between Vijayawada and Guntur is being lit up. Special power lines have been laid to supply uninterrupted electricity to the ceremony. Generators have also been kept on standby in case of emergency.
"The power consumption for the swearing-in day would be close to about 2 MW, which is equivalent to the supply to the entire Guntur city for a day," an official told TOI.
Star hotels have been reserved to accommodate the VVIP guests. Special flights, buses and trains have been arranged to transport the people to the oath-taking venue. South Central Railway (SCR) will operate 12 special trains between Vijayawada and Guntur, as well as from Tirupati, Narsapur, Secunderabad and Visakhapatnam to facilitate more people on the oath-taking day. The special trains will stop at Mangalagiri and security will be provided in all the trains moving in the section on Sunday.
All goods and passenger vehicles, which pass through the national highway between Guntur and Vijayawada, will be diverted via alternative routes.
Who Will be Attending the Event?
A host of dignitaries will be attending the grand swearing-in ceremony on 8 June.
Top BJP leaders including L.K. Advani, Rajnath Singh, Murali Manohar Joshi, Nirmala Seetharaman, Prakash Javadekar, Venkaiah Naidu, Arun Jaitley, Sadananda Gowda, Ananth Kumar and Piyush Goyal have confirmed their participation.
Chief ministers of various states including Tamil Nadu, Gujarat, Chhattisgarh, Rajasthan, Odisha, Punjab and Goa are likely to attend the event.
NTR clan including Jr NTR, Kalyan Ram, Balakrishna, Harikrishna, Rama Krishna and Taraka Ratna, as well as Nara clan are expected to grace the ceremony. Actor Pawan Kalyan, who recently floated his Jana Sena party, is likely to attend the event.
Telangana Chief Minister K Chandrasekhar Rao and YSR Congress president Y S Jaganmohan Reddy, who were also invited, will not be attending the swearing-in ceremony. Prime Minister Narendra Modi will also not be present for the oath-taking event owing to the ongoing Parliament session.
Naidu to Waive Loans
Post the swearing-in ceremony, Naidu is likely to sign his first file on farm loan waiver, which involves over ₹50,000 crore. However, the total waiver of farm loans will be implemented in a phased manner as it will require permission from the Reserve Bank of India.
After signing his first file, Naidu will set up a committee headed by C.S. Rao to fix the guidelines on the waiver of farm loans. Sources have said that the state would be issuing bonds to the banks instead of repaying them, reported Deccan Chronicle.
The government is also planning to approach the centre requesting sanction of funds to raise money for waiving farm loans.