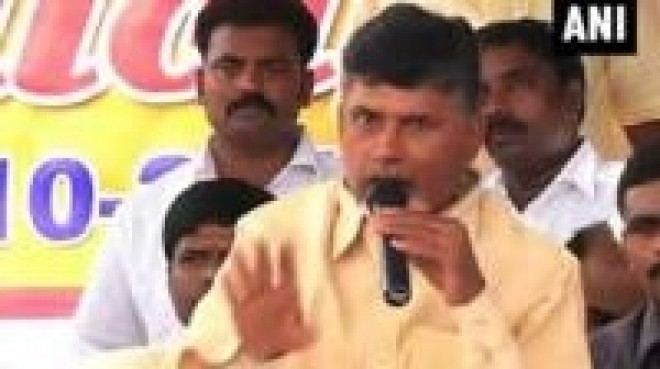 Andhra Pradesh Chief Minister-designate and Telugu Desam Party (TDP) president Nara Chandrababu Naidu is set to be formally elected as the leader of the TDP Legislature Party in Tirupati on Wednesday evening.
The venue of Naidu's election as the LP leader is Sri Venkateswara University, from where he completed his Postgraduate Degree in Economics. The function will be held in the Senate Hall of the University on Wednesday evening. Besides all MLAs, the party's MPs and leaders will attend the event, according to media reports.
Once Naidu is elected TDP's LP leader, a letter would be sent to Governor ESL Narasimhan, intimating him about the event. Then a formal requisition will be made by the party to the Governor, to form the new government in Andhra Pradesh.
Naidu is scheduled to address a press conference in Tirupati, after being elected the party's LP leader's.
The TDP president is set to arrive in Tirupati on Wednesday evening by a special flight and will be taken to Padmavathi Guest House. From 7pm to 9pm, Naidu will participate in the election for TDP's Legislature Party leader. After the election, Naidu will return to Hyderabad on the same night.
Naidu is scheduled to take oath as the Chief Minister of Andhra Pradesh on 8 June, at a venue near Nagarjuna University in coastal Andhra Pradesh.
Naidu tells MPs to live up to people's expectations
Meanwhile, Naidu addressed a TDP Parliamentary Party meeting in Hyderabad earlier on Wednesday. Addressing the newly elected party MPs, Naidu said that they should work to fulfill the aspirations of people in their respective constituencies.
Soon after assembling, the TDP meeting paid tribute to BJP leader and Union Minister Gopinath Munde, who was killed in a road mishap on Tuesday.
Naidu also reportedly advised the newly elected MPs to sharpen their oratorical skills in both Hindi and English to excel in the Parliament.
Naidu called upon the MPs to strive for the development of the state with the support of union government, with Narendra Modi at the helm as the Prime Minister. Naidu and Modi had campaigned together in AP as TDP-BJP are alliance partners.
TDP has appointed former MP Kambhampati Rammohan Rao as the special representative of the Andhra Pradesh government in Delhi.
Naidu pointed out that Rao would work well in Delhi as he has also worked there during the National Front government in the past. Rao's is acquainted with senior BJP leaders, Naidu is understood to have told the meeting.