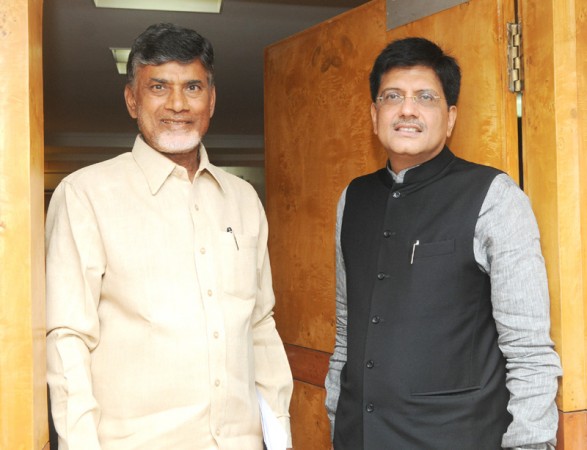 Andhra Pradesh has sought Singapore government's technical expertise and knowledge to develop a series of ports on its coast, smart cities and a petro-chemical corridor in the state, from which Telangana was carved out last month.
The state government's request has been positively acknowledged by the visiting Singapore minister for foreign affairs K Shanmugam. The minister met Andhra Pradesh Chief Minister N Chandrababu Naidu on Thursday in Hyderabad. Naidu held discussions with Shanmugam about smart cities and other proposed developmental programmes.
Andhra Pradesh social welfare minister R Kishore Babu, who was present during the Naidu-Shanmugam meeting, said that the state government wanted to develop four major port cities -Visakhapatnam, Kakinada, Krishnapatnam and Gangavaram - and 16 medium to small ports on its coast. Soon after that, Machilipatnam and Ramapatnam will also developed as port cities. To develop these port cities, Singapore's knowledge will be utilised by the AP government.
Andhra Pradesh government wanted to develop trans-shipment facilities, and Singapore's expertise will be utilised in this as well.
For building smart cities and developing key cities like Visakhapatnam, Vijayawada, Tirupati, AP government has urged Singapore authorities to lend its town planners, architects and other technical help.
Quoting Kishore Babu, The Hindu reported that Singapore has one of the biggest petro-chemical complexes, and its technical expertise in the field has been sought to build petro-chemical corridor between Visakhapatnam and Chennai.
The state government has also requested the Singapore government to help in building roads, infrastructure development for various sectors, promoting governance and public policy making, the minister stressed.
During the April-May elections, Naidu had vowed to develop the state on the lines of Singapore. Naidu, who was Chief Minister of undivided Andhra Pradesh from 1995 to 2004, has been credited with developing Hyderabad into an investment-friendly destination and an IT hub.
Now, with the bifurcation of the united state into Telangana and residual AP, Naidu wants to develop the state in all sectors. As Hyderabad is going to be retained by Telangana as after 10 years, the responsibility of building a new capital city for AP has also been taken up by Naidu.
Naidu has been assured by Prime Minister Narendra Modi to help AP in building its new capital by extending all fiscal other resources.
According to the latest reports, Naidu is said to be planning the new capital city near Amaravati, the Buddhist town near Guntur.