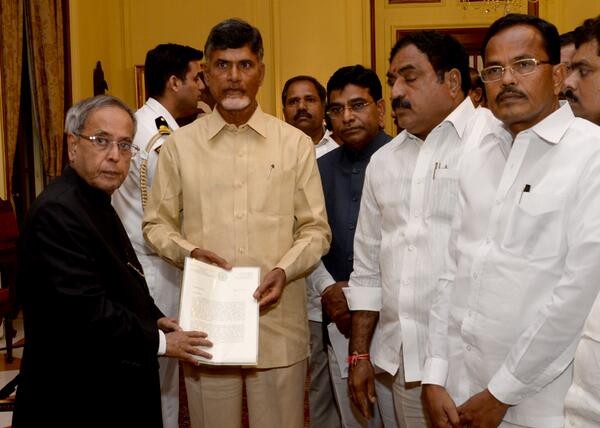 Andhra Pradesh chief minister-designate and president of Telugu Desam Party (TDP) N Chandrababu Naidu on Wednesday, 4 June, stated that he will develop the residual Andhra Pradesh into "Swarnandhra Pradesh." He explained that he wanted to see the state in pristine condition like Singapore.
Naidu was addressing the TDP MLAs at Sri Venkateswara University in Tirupati, after he was elected as TDP Legislature Party's (TDPLP) leader. Recalling his promises made during the April-May elections, Naidu said that the new state will see several changes. He added that he will fulfill every promise he has made to the people.
Naidu has invited Prime Minister Narendra Modi, chief ministers of several states and Central ministers for his swearing-in ceremony on 8 June. He further stated that he invited such a large number of invitees, including CMs, not to show-off, but to seek their cooperation and support in developing Seemandhra.
This is the fifth-time that he has been elected as the party legislature party leader. However, the election was held outside Hyderabad for the first time.
During the event, he likened Modi to the first prime minister of India Jawaharlal Nehru and said that the state is now at a historical juncture. In the past, Nehru visited the region, after Andhra Pradesh was carved out of the Madras state.
After Naidu's swearing-in ceremony near Nagarjuna University between Vijayawada and Guntur on 8 June at 7.27 pm, the State Cabinet will take oath on either 10 June or 12 June in Hyderabad.
TDP is reportedly hiring seven special aircrafts to bring national leaders and other VVIPs from Hyderabad to Vijayawada to attend Naidu's swearing-in ceremony.
Tirumala, Chittoor to get more tourism facilities
Naidu visited the deity of Sri Venkateswara Swamy at Tirumala hills on Thursday, after he was elected as TDPLP leader in Tirupati. He also spoke to the devotees at the temple and enquired with them about the problems they face while visiting the deity.
He vowed to bring several reforms in the temple for a hassle-free visit. Chittoor, which is Naidu's native district, is home to numerous temples and he said that more tourism facilities will be provided to the district.
He also assured to wipe out the menace of smugglers of red sandal wood from the Seshachal forest in the hills.