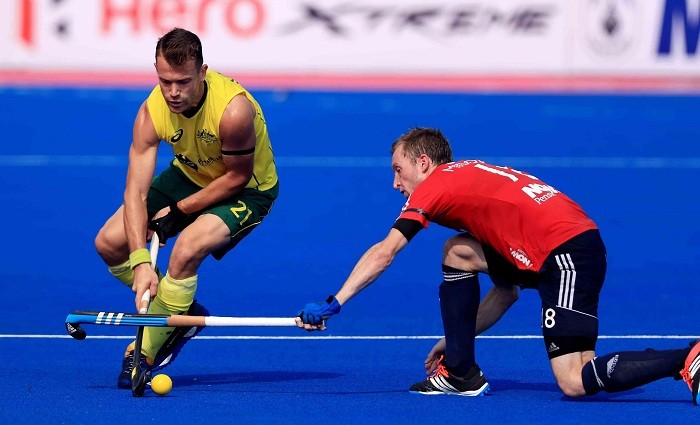 India began their Champions Trophy 2014 hockey campaign on a disappointing note, losing 1-0 to Germany in their Pool B match at the Kalinga Stadium in Bhubaneswar.
Florian Fuchs scored the only goal ensuring the victory for the Olympic champions Germany in a nail-biting contest.
From the start, both the teams played aggressively. Germany produced two successive penalty corners within the first 10 minutes, but could not capitalise on the opportunities.
Overcoming the initial nervous moments, India also launched counter-attacks and earned a penalty corner just as one minute and nine seconds were left for the end of first quarter. However, Germany goalkeeper Nicolas Jacobi stood like a wall to deny India.
India also threw away a couple of chances when their forward players could not intercept some good crosses.
The first three quarters, which were evenly contested, saw both India and Germany struggling to score. In the fourth quarter, Germany managed to get a penalty corner but failed to convert it.
In the last minute of the game, Fuchs, the 2012 International Hockey Federation (FIH) Young Player of the Year, scored the solitary goal of the match.
Captain of India Sardar Singh said: "The team is little bit disappointed. We will work on the mistakes. There are still two matches left to score well."
Germany coach Weise Markus said: "It will give a moral boost to the team in the coming matches. The young guys played well and it's good that they played well."
Earlier, in the run up to the India-Germany clash, spectators swarmed Kalinga stadium, which is hosting its first ever international hockey tournament. Much before the match began, hundreds of hockey fans were spotted standing in a serpentine queue to witness one of the major sporting events hosted by the city.
In their next match on Sunday, India will play Argentina, while Germany will meet the Netherlands.
In the other Pool B match, the Netherlands punished a misfiring Argentina 3-0 with goals coming from Mink van der Weerden, Robbert Kemperman and Diede van Puffelen.
In the Pool A matches, England stunned five-time defending champions Australia 3-1. The European team scored through Samuel Ward (27th and 56th minutes) and Alastair Brogdon (sixth), Chris Ciriello scored the solitary goal for the World champions.
Also, Thomas Briels' delightful third quarter goal helped Belgium snatch a 2-1 victory over Pakistan.