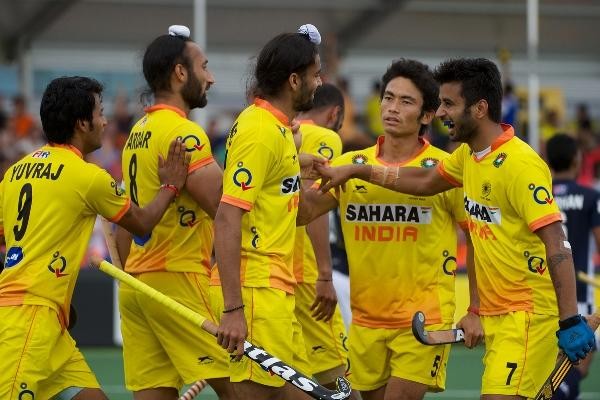 Australia skipper Eddie Ockenden feels India can clinch the Champions Trophy, if the host nation's players perform like they did during the 2014 Asian Games and the recent tour down under.
India beat Pakistan on penalties in the men's hockey final to win gold in Asian Games in Incheon back in October, and followed it up with a historic 3-1 Test series win in Australia the next month.
And with the 2014 Champions Trophy in Bhubaneswar set to kick off on 6 December, Ockenden, who captains the defending champions, believes India are one of the favourites to win the eight-team tournament this year.
"India is a much improved team and they are playing well. When we played against them last month, they were really good and so they are the team we are looking at closely," IANS quoted the Australian striker as saying in Bhubaneswar.
"They are a very experienced team and if they continue playing in the same manner as they performed in the 17th Asian Games and the India tour of Australia, they have a strong chance to win this championship as well."
Ockenden pointed out that Australia are also in good shape, despite missing some key players, and he remains confident of his team's chances of defending the Champions Trophy title for the fifth time in a row.
"We have a good mix of experienced and semi-experienced players as well as a lot of youngsters in our team. We have been performing really well so far and in spite of some really experienced players not being here with us, we are comfortable playing with this squad," the 27-year-old added.
Australia chief coach Graham Reid also expressed his faith in his team's chances of pulling off a sixth consecutive title triumph in the Champions Trophy, despite admitting that the task ahead is a tough one.
"We have won this championship five times in a row and the main aim this time would be to keep that going and take the number to six. But before that we have three really tough pool games, the quarterfinals and then the semifinals -- a tough tournament altogether," he said.
"All the teams here are fantastic and equally difficult and it is not going to be easy."
Australia, Belgium, England and Pakistan are in Pool A, while Netherlands, Germany, Argentina and India are in Pool B.