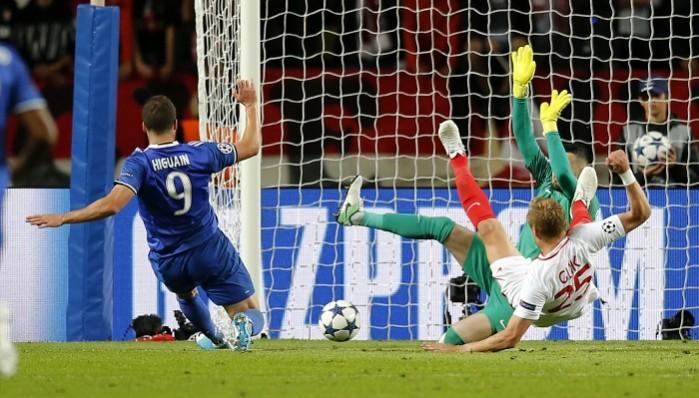 It looks like being a Real Madrid vs Juventus final in the Champions League this year. After Real blanked Atletico at the Bernabeu in their semifinal first leg, it was the turn of Juventus to do the business against Monaco on Wednesday.
Up against a vibrant, young side who play with little fear, Juventus showed the nous and ability that took them to the semifinals to pick up a 2-0 win in the first leg in Monaco.
Both of the goals came from the man who has been criticised in the past for going missing in the Champions League – Gonzalo Higuain.
The Juventus striker opened the scoring a minute before the half hour, with Dani Alves providing a quite brilliant assist.
Alves stormed forward, saw Higuain at the edge of the box, and played a really nice backheel to his teammate. The Argentine was cool, calm and collected in the finish, slotting the ball low and hard into the bottom corner.
Kylian Mbappe, subject of a massive bid from Manchester United, and Radamel Falcao showed flashes of Monaco-might-be-able-to-score, but the first leg and the looks-like-the-tie-as-well was put to bed when Higuain completed his brace in the 59th minute.
Alves was the provider again, this time with a nice cross to the far post. Higuain took it first-time, on the stretch to place the ball past Danijel Subasic.
"I'm delighted," Higuain was quoted as saying by Juventus' website. "It was vital that we did well in this semifinal and we've done that. This is a huge win.
"The team did a great job and we managed to score goals too. We still have the second leg to play and they're a good side, but we hope to go through to the final."
Massimiliano Allegri continues to show what an astute manager he is. With the latest clean sheet, Juventus continued their record of not conceding a single goal in the knockout stages this season.
Juventus, Porto and now Monaco have tried, but none of the three teams have been able to score a single goal.
"You have to hand it to the players, because it wasn't easy to come here to Monaco for the first leg," Allgeri said. "That said, we still have to play the return leg, they have nothing to lose so we'll need to do a professional job once again.
"They're a good side, a technically gifted side, but we started well. It was beginning to look easy, but we made a few mistakes. They created a couple of good chances after we took the lead, but Gigi (Buffon) was there to save again so there's plenty to be happy about."
Watch the highlights of Monaco vs Juventus HERE