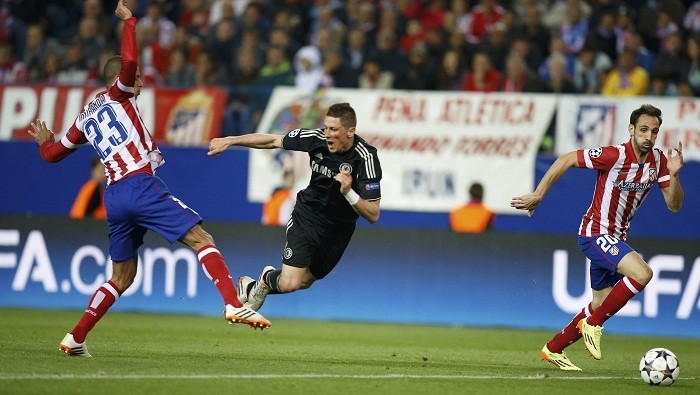 In, perhaps, one of the most boring games you will ever see in the Champions League, let alone a semifinal, Chelsea and Jose Mourinho managed to do exactly what they set out to do before the final whistle - keep Atletico Madrid goalless.
The fact that Chelsea barely mustered a shot on target in the first leg, with a goal from the Blues looking as unlikely as a dry month in England, will matter little as the English Premier League club, packed with defensive-minded midfielders, came out of the daunting Vicente Calderon unscathed.
The 0-0 draw means the tie is pretty much anyone's for the taking, with Atletico knowing an away goal, especially early, at Stamford Bridge will put the pressure entirely back on Chelsea, who set out to spoil Atletico's attacks right from the off on Tuesday, and managed it admirably, despite suffering two major setbacks.
Chelsea will be without Petr Cech for the rest of the season, after the goalkeeper fell awkwardly and had to be taken off in the first half, with Mark Schwarzer, all of 41 years and 128 days old, in the process becoming the oldest player in the Champions League, beating the record held by Edwin Van Der Sar.
Mourinho also will not be able to bank on his captain John Terry's services, after the defender, who was having a typically strong game, had to be substituted with an ankle injury. Two more players will miss the second leg against Atletico, with Frank Lampard and John Obi Mikel suspended, while Atletico's skipper Gabi will also be forced to watch the game from the stands.
"Petr Cech's season is over," Mourinho said. "Don't ask me to explain it technically, but it's over. With John, we'll have to play in the final for him to play with us again.
"This result leaves everything even more related to small details for the second leg. We had problems before the game, during the game and lost four players, two with injuries and two with yellow cards, but we will fight."
Mourinho started with Mikel, Lampard, Ramires and David Luiz all in midfield, leaving only Willian and Fernando Torres, who was particularly isolated throughout the game against his former club, as players with a forward edge, even if Ramires was playing in a more advanced position.
Chances were at a premium for both sides, with Atletico consigned to playing diagonal crosses into the box looking for the head of either Raul Garcia or Diego Costa, with Chelsea dealing with that particular danger rather well.
"Nobody starts a game thinking of a 0-0 but the game goes in a certain direction where you feel you have to be safe and not concede, try to score in one of the chances you create," Mourinho added. "We had three or four corners and two freekicks in dangerous positions. If we scored one of them the result would have been very good. We didn't, and we go with a result where everything will be decided at Stamford Bridge.
"For the first time they played a match here where they were trying to win because against Milan they won the first game at the San Siro, and against Barcelona they got a 1-1 draw away. This was the first time they played the first leg at home. They are a very difficult, very physical team and fantastic at set-plays. For us to stop them the way we did, without Schwarzer being man of the match, because he wasn't, was really good and the team defended very well."