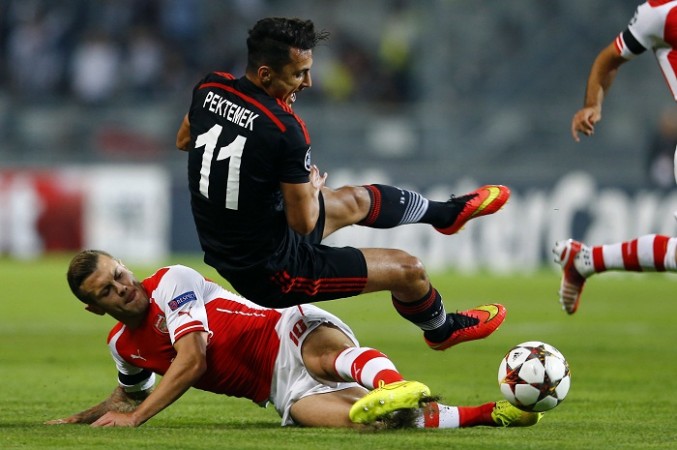 Arsenal were in cruise mode this time last year when they visited Istanbul for a Champions League qualifier. However, on Tuesday they ran up against a determined Besiktas side, who took full advantage of home support and a dodgy pitch to hold the more fancied Gunners to a goalless draw in the first leg.
While 0-0 might suggest a boring, "what on earth are they even playing for" encounter, that was far from reality as the match could have easily ended 2-2 or even 3-2, with the home side giving as much as they received, with a little bit of interest as well, while Arsenal saw their main man Aaron Ramsey sent off in the second half.
Demba Ba was always going to be Arsenal's main threat and the striker proved to be just that as the former Chelsea and Newcastle man, who nearly moved to the Emirates last summer, almost opened the scoring within the first ten seconds.
From the kickoff, the Senegal international decided to take a potshot from the halfway line, and Wojciech Szczesny just seemed unable to read the flight of the ball which caused him to make a last-gasp diving save.
That would have been the absolute dream start for Besiktas, but that miss did not worry them as Slaven Bilic's team poured forward with purpose, putting Arsenal under pressure in the opening ten minutes.
Arsene Wenger and his team, of course, would have expected such a start from Besiktas, and they weathered the early storm well enough, with Szczesny making another diving save to deny Ba after a peach of a pass from Oguzhan Ozyakup, the man who learnt his trade at Arsenal.
Ozyakup was up for this match, with the midfielder keen to prove he could have made the grade under Wenger, while Ba looked a constant threat up front. Bilic had clearly given Ba instructions to target young defender Calum Chambers, and while there was a moment or two of trouble, the 19-year-old, belying his age yet again, performed brilliant well for the majority, keeping the Besiktas striker at bay.
However, a mistake from Chambers, who failed to read the flight of a long ball, nearly gifted Besiktas the opening goal, late in the first half, only for the Ba to strike his shot from inside the box wide.
Arsenal also had their fair share of chances, with Alexis Sanchez a constant thorn in the home side's defence, marauding down the right, and looking particularly dangerous on the counter-attack. The Chile international, Arsenal's marquee signing of the summer so far, picked out a couple of nice crosses as well and had Olivier Giroud not had one of his more forgettable days, one of those crosses might have been directed into the back of the net.
For the most part, Giroud showed why Wenger had chosen Yaya Sanogo ahead of him in Arsenal's first two matches of the season – the Community Shield and the English Premier League opener – with the France international looking well off the pace, while his first touch, usually so reliable, kept letting him down as well.
Giroud's finishing was not exactly up to the mark either, as the striker missed a wonderful chance right on the stroke of halftime, seconds after Ba's big miss, failing to make proper contact after a delicious pass from Ramsey.
Ramsey, though, for much of the game, was very much in the periphery, much like Santi Cazorla, who had another game to forget after his poor performance against Crystal Palace, with Jack Wilshere doing his best to create openings, even if not too many came about.
Besiktas had a couple of really good chances in the second half as well, which on another day they would have finished off, before they were given a lifeline ten minutes from time as Ramsey was given a second yellow card for holding back Ozyakup.
If Besiktas would have fancied their chances to score that crucial goal in the final moments, it was Arsenal who nearly grabbed a dramatic late winner as Alex Oxlade-Chamberlain, in for the final 20 minutes for Sanchez, stormed into the box after the home side gave the ball away, before curling a nice strike with his left foot, which goalkeeper Tolga Zengin did outstandingly well to tip onto the post.
It's not the worst of results for either side, and Arsenal will go into the second leg, where the pitch will be more like a snooker table rather than the rough on a golf course, confident of going through to the group stages of the Champions League; but Besiktas will also know if they play like they did in the first leg, they will stand a pretty good chance of progressing as well.
Other results: Salzburg 2-1 Malmo; FC Copenhagen 2-3 Bayer Leverkusen; Napoli 1-1 Athletic Bilbao; Steaua Bucharest 1-0 Ludogorets.