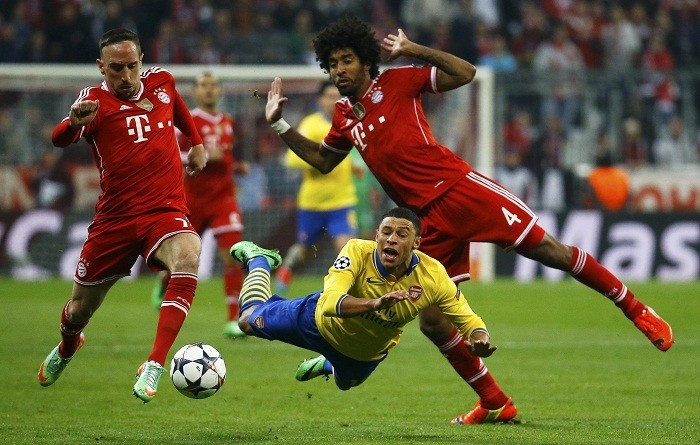 There was a sense of déjà vu in the air after Barcelona's toppling of Manchester City in the Champions League. Just like yesterday, when Bayern Munich eased past Arsenal, City were facing an uphill battle, trying to claw down a 2-0 deficit, the same as their English Premier League counterparts.
Arsenal had their most high-profile player go invisible in the big match against Bayern Munich, before going off injured at halftime, and so did City on Wednesday night at the Camp Nou.
Mesut Ozil was invisible in the first half and did not appear in the second due to a hamstring injury. Sergio Aguero made three passes in the entire first 45 minutes, and did not take part in the second half with a hamstring problem - both the sides played better in their absence.
Refereeing decisions were harped on by Arsene Wenger following the 3-1 aggregate loss to Bayern, and, no doubt, City will feel they were on the receiving end of a few bad decisions as well, whether perceived or otherwise.
The final similarity, and probably the most telling one, was that neither Arsenal nor Manchester City were remotely as good as their opponents, even if the cards were decked firmly against them after having to play with ten men in the first leg - at the end of the day, they were outdone by two teams that were just superior on the European stage.
Yes, things might have been different had the first legs been played 11 v 11 - Arsenal might have carried on their tremendous start, forgotten about the penalty miss and gotten at least a draw out of the tie at the Emirates. City might have kept things tight at the back, with Barcelona enjoying plenty of possession but not too much potency, before it all opened up following the Martin Demichelis sending off.
But red cards and refereeing decisions are a part of the game, and once Bayern Munich and Barcelona, two of the three big favourites for the Champions League title this season, along with Real Madrid, went into their home legs with a 2-0 lead, the tie was pretty much over.
Arsenal were gallant and there was spirit on show, even if it was tempered by the fear of going forward and opening themselves up to the ruthless Bayern attack. When time came to put those fears behind and just throw the kitchen sink at Bayern at the Allianz Arena, however, Arsenal showed dithered.
Even in the second leg last season - when the Gunners won 2-0, but went out on away goals - there was a sense of "just get at them and you can go through' feeling which they failed to capitalise on against a Bayern side clearly off their game. The match was there for the taking, and while winning at the Allianz Arena was in itself a great achievement, there was that sense of what might have been, a taste all too familiar for Arsenal fans, no doubt.
There were no such doubts on Tuesday, though, as Bayern always looked in control, as Arsenal, looked almost incapable of putting pressure on the home team's backline. Arsenal seem to revel in glorious failures - of the if only and so close moments - but at the end of the day, the only thing that will be remembered is this was the English Premier League side's fourth straight elimination in the last 16 stage, and money or no money, injuries or no injuries, Bayern, Barcelona or someone else, refereeing decisions or no red cards - that just isn't good enough.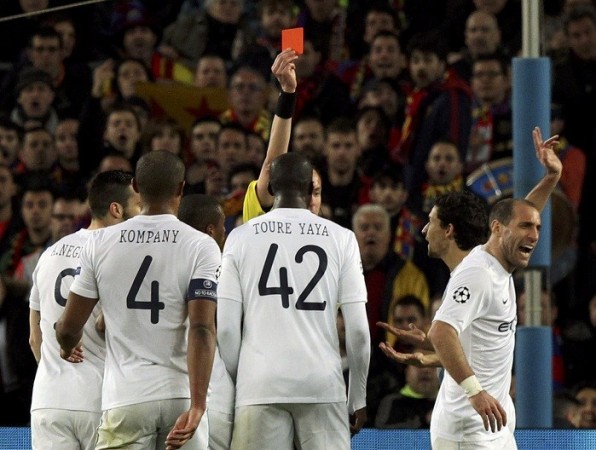 City were also not quite adept enough to stop the Barcelona charge, despite the Catalans suffering an alarming dip in form - alarming considering their own high standards of course. Manuel Pellegrini's men showed much more intent going forward than Arsenal managed, but without managing to banish that sense of inevitability - that feeling of possibly knocking Barcelona out was never really in the air.
Especially with the mood that Lionel Messi was in, as the Argentine showed yet again just why he is such a joy to watch. Those jinking runs, when the ball seems to be stuck to his feet with super glue, are mesmerising in itself, and when you combine that with effectiveness, it becomes near impossible to stop.
Messi could have had a penalty, when Joleon I-can't-stay-with-him Lescott brought him down, and the Argentine almost scored that trademark goal when he does what everyone, including the defender, knows what he is going to do - cut into his left foot and curl one into the corner - with only the post saving City's blushes.
When the goal finally came, a flick of the right boot from Messi, the fat lady's song could be heard, even if City refused to give up, with a red card not stopping them from at least getting one goal to their name over the 180 minutes.
City will perhaps feel a little better about themselves than Arsenal; but then Bayern Munich are a better side than Barcelona at the moment, after all the Germans did annihilate the Spaniards in the semifinals last season.
An exit with pride, Wenger would have said to his players; but surely it is enough of the glorious exits.