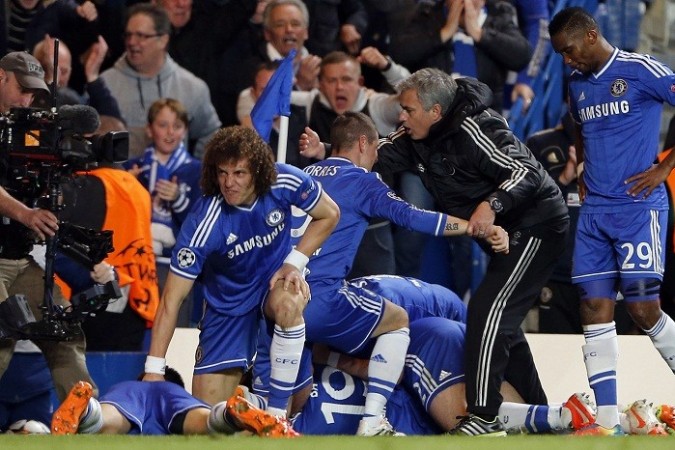 There was one stunning comeback from a team that do not seem to know how to lie down and play dead, while another, almost equally amazing turnaround, fell marginally short in another exhilarating night of Champions League knockout football.
Chelsea were up against it going into their quarterfinal second leg at Stamford Bridge, 3-1 down, and facing a PSG side filled with world-class players. However, Chelsea in Europe are like one of those boxers, who no matter how many times you floor with a heavy punch, just keep getting back up for more, eventually prevailing over sheer spirit alone.
Needing a 2-0 victory at the absolute minimum, Jose Mourinho's men did exactly that, shutting out a we-really-need-more-experience-in-Europe PSG to seal an amazing away goals 3-3 aggregate victory, with Demba Ba, the forgotten man, the forgotten striker, using his strength and desire to get to the ball first in the final moments to send his team into the semifinals.
The game was not a great spectacle, with the second leg taking a little while to heat up, with PSG looked to kill the tie off with a goal, while also being wary of conceding, cancelling out Chelsea who were also put in a similar position.
However, two minutes past the half-hour, the home fans saw that hope-metre go up a notch or two, with Andre Schurrle, yet again, scoring a big goal. A simple long throw-in from Chelsea saw David Luiz head the ball onto Schurrle's path, with the German international providing a crisp finish from eight yards.
PSG, who clearly missed their injured talisman Zlatan Ibrahimovic, had a brief period when they looked like they might score in the second half, with Edinson Cavani missing a couple of presentable opportunities. But before that, Chelsea were terribly unlucky not to take a 2-0 lead as Schurrle and then Oscar struck the crossbar, in almost the exact same spot, within the space of a couple of minutes.
However, Chelsea's perseverance, and that we-just-will-not-go-away spirit would finally pay dividends, with Ba, brought on as a substitute in the 65th minute for Frank Lampard, getting to a loose ball, off a deflected shot, to bury the ball into the net from close-range to send the supporters and Mourinho, who provided that running-down-the-touchline celebrations again, into delirium.
In the other quarterfinal tie, Borussia Dortmund, last year's runners-up and vanquisher of Real Madrid in the semifinals of the previous season, nearly pulled off another amazing result over the Spanish giants at the Westfalenstadion.
Robert Lewandowski was the hero when the two sides met in the first leg of their semifinal last season, but this time it was the turn of Marco Reus, who scored two unanswered goals to bring out butterflies the size of dinosaurs in the stomachs of the Real players.
Leading 3-0 from the first leg, this was supposed to be a comfortable second leg for Real, who had their big man Cristiano Ronaldo start on the bench because of a knee injury, and probably would have been had Angel Di Maria converted a penalty early in the first half, given for a rather harsh handball on Lukasz Piszczek. But that missed spot-kick and dreadful defending from Real would come back to haunt them, with Reus latching onto a poor back pass from Pepe, before rounding Iker Casillas to make it 1-0 on the night and 1-3 on aggregate.
Another big mistake from a Real player, this time Asier Illarramendi, allowed Reus to make it 2-0 in the 37th minute, leaving Dortmund to find at least one more goal with 52 minutes of play still remaining.
Both teams had chances in the second half, and Casillas had to be at his absolute best to deny Dortmund a third goal, as Real scraped home.