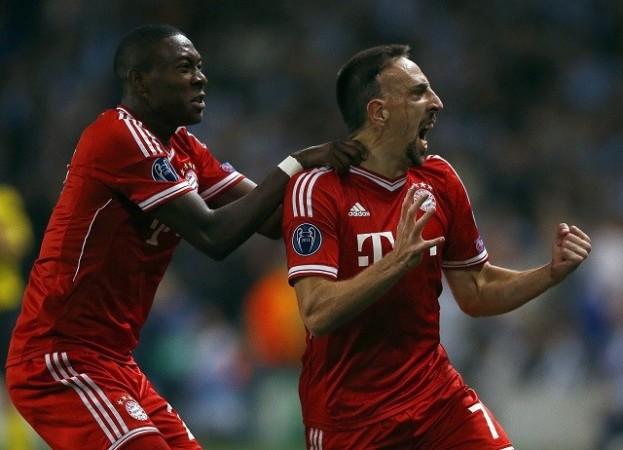 Bayern Munich showed just how good a team they are yet again, outclassing Manchester City in the Champions League, while Manchester United had to settle for a draw at Shakhtar Donetsk.
PSG and Real Madrid had it easy in their respective games, while Juventus were held to their second straight draw in this season's Champions League, a 2-2 draw against Galatasaray.
At the Etihad, right from the off, you knew there really was only going to be one winner, such was the authority and control in possession shown by Bayern Munich.
City manager Manuel Pellegrini would have been desperate to end his dry run against Bayern counterpart Pep Guardiola, but after Jose Hart let one slip through his fingers off Franck Ribery's rasping low drive in the seventh minute, it was smooth sailing for the European champions, barring a couple of hiccups towards the end.
With Guardiola again choosing to play Philipp Lahm in midfield, Rafinha, at right-back and Arjen Robben enjoyed themselves on the right, while David Alaba and Ribery were equally effective down the other side.
Bayern's midfield of Lahm, Bastian Schweinsteiger and Toni Kroos just did not allow Yaya Toure and Fernandinho to get into the game, and with it nullifying City's advances forward.
Despite the dominance in the first half, Bayern did not find a second goal leaving City with the hope that they could fashion something in the second 45.
City started a little better in the second half, but the game was over bar the shouting on 56 minutes. Dante's long pass found Thomas Muller, who had found himself free due to Gael Clichy's lack of concentration, with the German international easing past Hart before slotting into an empty net.
It was 3-0 on the hour as Robben's shot at the near post found a way past Hart, giving the left-footed Dutchman his fifth goal in five consecutive Champions League matches.
Robben, Kroos and Muller all missed presentable chances as Bayern looked to add further salt into City's wounds, before substitute Alvaro Negredo found a wonderful curler to beat goalkeeper Manuel Neuer in the 80th minute.
City, with a glimmer of hope, were awarded more encouragement on 86 minutes when Jerome Boateng, playing against his former club, was shown a straight red card for bringing down Yaya Toure while through in goal.
David Silva crashed the resultant freekick onto the woodwork, as Bayern held on for a deserved three points.
In Ukraine, Taison cancelled out Danny Welbeck's early opener to earn Shakhtar Donetsk a point. Welbeck had put United in front, much to the under-fire David Moyes' delight, in the 18th minute after Marouane Fellaini's cross from the right somehow found its way to the striker, who made no mistake in slotting it in.
It was a much improved performance from United, after their poor loss to West Brom at the weekend, and despite missing their main man Wayne Rooney, who was ruled out with a shin injury.
However, despite some decent play, a second goal would not come and United were made to pay for that when Taison smashed home the equaliser off a cross from Yaroslav Rakitskiy.
Ryan Giggs added another record to his already bulging CV, becoming the record appearance maker in the Champions League, from Raul, making his 145th appearance after coming on as a substitute in the second half.
At the Bernabeu, Real Madrid put their domestic worries behind them with a comfortable 4-0 win over FC Copenhagen, courtesy a brace each from Cristiano Ronaldo and Angel Di Maria.
Real have six points from six, and are four points clear of Juventus, who were denied a win in Turin by Roberto Mancini-led Galatasaray.
Didier Drogba opened the scoring for Galatasaray, before Arturo Vidal made it 1-1. Fabio Quagliarella thought he had won it for Juventus, only for Umut Bulut to immediately make it 2-2 as both sides shared the spoils.
Results: Group A: Shakhtar Donetsk 1-1 Manchester United; Bayer Leverkusen 2-1 Real Sociedad. Group B: Juventus 2-2 Galatasaray; Real Madrid 4-0 FC Copenhagen. Group C: PSG 3-0 Benfica; Anderlecht 0-3 Olympiakos. Group D: CSKA Moscow 3-2 Viktoria Plzen; Manchester City 1-3 Bayern Munich.