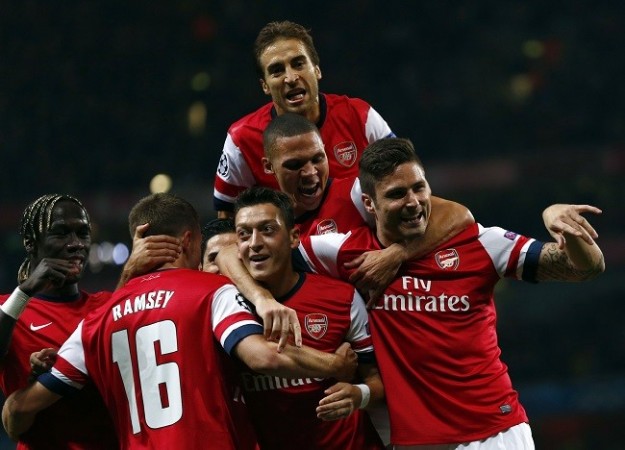 Aaron Ramsey or Mesut Ozil, who is the better player at the moment? Ah, who cares!
The Arsenal duo put on another masterclass, as the English Premier League side thoroughly outclassed Napoli 2-0 in their Champions League game at the Emirates.
Ozil, off Ramsey's assist, scored an absolute peach of a goal to open the scoring, before the German playmaker set up Olivier Giroud for Arsenal's second as the home side were at their creative, irresistible best.
Elsewhere, Jose Mourinho and Chelsea got back to winning ways in the Champions League with a comfortable 4-0 win over Steaua Bucharest, while Barcelona and Borussia Dortmund also picked up three points on the night.
At the Emirates, 17 years to the day that Arsene Wenger officially took charge at Arsenal, the manager made a couple of changes to his side from the weekend, with Jack Wilshere and Serge Gnabry sitting out for Tomas Rosicky and Mikel Arteta.
The start was just mesmerising from Arsenal, completely bamboozling the Napoli team - it was an Arsene Wenger side at their best.
After completely dominating possession and making Napoli look like defenders in an attack vs defence training session, Arsenal opened the scoring in the eighth minute.
Giroud laid the ball off to a brilliantly rushing Ramsey on the right, and such is the form of the Welshman that he got his head up, saw Mesut Ozil lurking just outside the box, and picked him out perfectly. And what did Ozil do? He made an 18-yard half-volley look like a six-yard backpass, passing it into the top corner past the despairing dive of Pepe Reina.
There have been so many times when Arsenal have not made full use of their dominance, which has then come to hurt them later in the game. Not this time, though, as the Gunners snapped up their second, seven minutes after the first.
A throw-in was made a hash of by Napoli allowing Giroud to steal the ball and give it to Ozil. The German playmaker found space on the right before picking out the run of Giroud, who did not have to break stride to stroke it in from six yards.
Napoli, when they did get the ball, which was not too often - by the time Arsenal had hit 100 passes, Napoli were on 24 - were restricted to strikes from long range, which did not concern Wojciech Szczesny too much.
Every time Arsenal had the ball, though, they looked dangerous with the pass master Ozil at the forefront of every move, and so was Ramsey, twisting and turning, dinking and linking at will.
A couple of half chances went Arsenal's way with Ramsey, Giroud and Flamini all coming fairly close, but not close enough to make it 3-0.
With the double advantage Arsenal went down a couple of gears in the second half, as the game slowed down considerably.
Napoli were again restricted to potshots from outside the box, with skipper Marek Hamsik a complete non-entity, while the pocketful of dynamite Lorenzo Insigne was forced to throw a few bombs from distance without much effect.
Wilshere came on for Rosicky and created a couple of openings as Arsenal cruised in the final minutes to make it six points out of six.
The other game in Group F saw Borussia Dortmund bounce back from their opening day defeat to Napoli in style, with last year's runner-up, sans Jurgen Klopp, suspended in the stands, easing past Marseille 3-0.
Robert Lewandowski got things started before Marco Reus made it 2-0 early in the second half. The game was signed, sealed and delivered on 72 minutes, when Lewandowski completed his brace from the penalty spot, consigning Marseille to their second defeat in as many games.
In Bucharest, it was all Chelsea as Ramires opened the scoring for the Blues. Andre Schurrle broke down the left before finding Samuel Eto'o, whose scuffed shot found its way through to the Brazilian for the finish.
Chelsea pretty much sealed the game just before halftime, with Eto'o seeing rebounded shot go in off Daniel Georgievski.
Ramires put the game completely to bed ten minutes into the second half, with Schurrle again creating the goal. A brilliant turn and run saw the German find a pass to Oscar with the Brazilian then finding Ramires to sweep home.
Oscar and Juan Mata then struck the woodwork, before Frank Lampard added the icing on 90 minutes as Chelsea bounced back from that Matchday One shock to Basel.
In Glasgow, there was to be no repeat of that 2-1 win for 10-man Celtic as Barcelona picked up all three points with a solitary goal from former Arsenal midfielder Cesc Fabregas.
Results: Group E: Steaua Bucharest 0-4 Chelsea; Basel 0-1 Schalke. Group F: Arsenal 2-0 Napoli; Borussia Dortmund 3-0 Marseille. Group G: Porto 1-2 Atletico Madrid; Zenit St. Petersburg 0-0 Austria Wien. Group H: Ajax 1-1 Milan; Celtic 0-1 Barcelona.