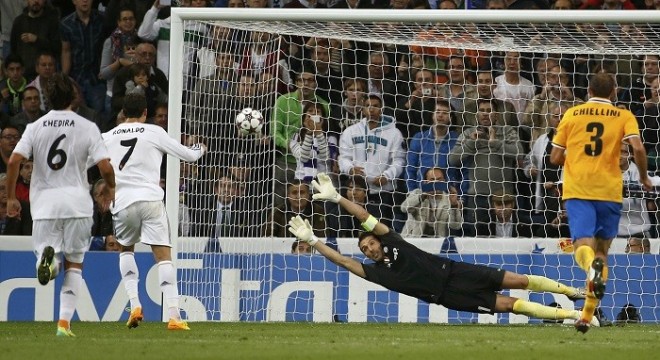 Real Madrid might have won the game on the night, but Juventus proved a point or two, said Antonio Conte, after seeing his 10-man side go down 2-1 to the Spanish giants in a pulsating Champions League clash.
Cristiano Ronaldo, who else, scored a brace for Real Madrid to put them on the brink of qualification to the last-16. But Juventus, who got their lone goal through Fernando Llorente, can take confidence from an impressive performance, despite going down to ten men for much of the second half after Giorgio Chiellini saw a rather harsh red.
"I liked how the lads played tonight [Wednesday]," Conte said. "We proved we can play at this level if we really want to. Tonight we only lost due to a couple of small details, a couple of things that did not go our way.
"We played at the same level as Madrid and we could even have won. Now everything is certainly more difficult but we proved we can be competitive against any opponent.
"Last year we were outclassed by Bayern while this season we played a great game against a team who are more or less at the same level as the European champions. So I don't think we are in crisis as many said on the eve of the game -- quite the opposite actually."
It is quite difficult now for Juventus, who have picked up just two points from three matches, and find themselves in third following Galatasaray's impressive 3-1 win over FC Copenhagen.
Conte will hope for a better result in the reverse tie in Turin in two weeks' time, while Real manager Carlo Ancelotti will want more of the same - a Ronaldo-inspired victory.
"We won a tough game," the Italian said. "We could have played better, but the result is very important for us. We only had problems down our right, where we didn't keep things as tight. Apart from that, the team had good balance."
Next up for Real is that humdinger of an "El Clasico" against Barcelona, with Ancelotti confident his side can stand up to the Camp Nou test at the weekend.
"The team are confident," he added. "We now have to go to the Camp Nou to win, and we will need to be at our best -- showing our best qualities."