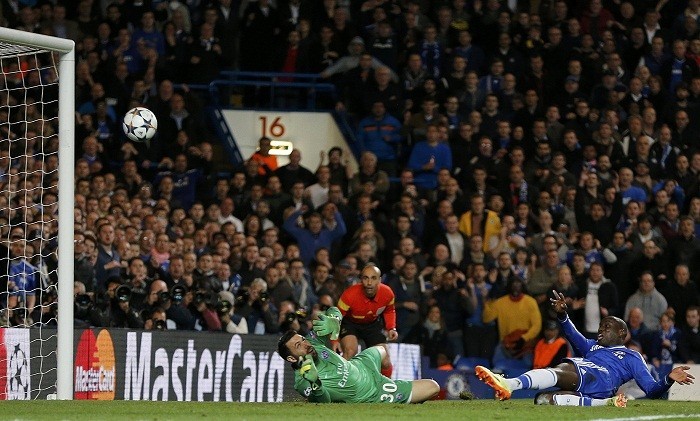 Chelsea manager Jose Mourinho would have feared his streak of never being knocked out in the quarterfinals of the Champions League was finally coming to an end as the quarterfinal second leg against PSG headed into the final five minutes.
However, a momentous goal from Demba Ba in the final moments, ensured those fears would not come to fruition as never-say-die Chelsea pulled off another remarkable European comeback.
The Blues, through goals from Andre Schurrle and Ba, picked up a 2-0 victory in front of their own fans at Stamford Bridge on Tuesday night, and with it sealing a place in the semifinals courtesy the away goals rule after the tie with PSG ended 3-3 on aggregate.
"The players, they follow our plan, our ambition -- we all win together, we all lose together, but without any energy to go home," Mourinho said after the last-gasp win.
"At the end of a game we either have to be so happy with the result or so happy with ourselves, and we are lucky because we have the result we fought for.
"But if we had not scored the second goal or if PSG had scored at the final corner and we had gone out, I think everyone in this club would have been proud with what the boys did.
"It is a good victory but having reached so many semi-finals for me and so many reached by Chelsea, it is nothing extraordinary. It is good because we lost 3-1 away and to change that result is always difficult but the players are not jumping in the dressing room."
Ba had a rare moment in the spotlight in a Chelsea shirt, scoring the winner after coming on midway through the second half, ahead of Fernando Torres, and the manager was all praise for his striker.
"I am happy for Demba, he's a good guy, a good pro and a good group man," the Portuguese said. "The fact I brought him on before Torres made him feel he doesn't have "No.3 striker" on his back. His enthusiasm was fantastic and he gave problems to PSG they don't normally have in the French League. His goal means a lot for him and for the club."
While Mourinho was quick to push the criticism button after the first leg loss to PSG last week, he was equally forthcoming with his praise for his entire team after the brilliant win.
"Everyone gave absolutely everything," he added. "My four defenders, as always, were brilliant, my midfield worked like animals, David Luiz was a monster. My players in attack tried to create with their quality and some others tried with their physical power, and Nando [Torres] and Demba Ba helped when they came on."
Chelsea now face the prospect of being drawn against an even more formidable opponent in the semifinals, but Mourinho welcomed the challenge, knowing full well the opposing team will not exactly relish coming up against his team either.
"We are in the semifinals and, if the quarterfinals had eight fantastic teams, imagine the four that are going to reach the semifinals," Mourinho said. "Anything can happen: big opponents are waiting for us.
"But it doesn't matter who, we have a good spirit. For sure we are going to enjoy it, the same way I told the players we had to enjoy this second leg in the quarterfinals -- we have to enjoy playing against the great opponents who are waiting for us.
"It doesn't matter. Real Madrid, Barcelona, Atletico, Bayern, Manchester United? It doesn't matter."
At the other end, PSG manager Laurent Blanc would have been left wondering just how his team let a semifinal place slip out of their grasp when they already had a foot in the final four.
"There's disappointment," the Frenchman said. "You must acknowledge that we fought a very good Chelsea team. "There are a number of things that didn't work tonight and a number that did. The [first] goal came against the run of play and that gave Chelsea belief.
"I thought we might have scored on the counterattack but we were not able to. Chelsea kept believing and in the end they were rewarded.
"Overall, in my opinion, the difference was not huge. Over the two matches there was very little between the two sides - ultimately, though, I think Chelsea's experience of playing at this level of the competition made the very small difference."