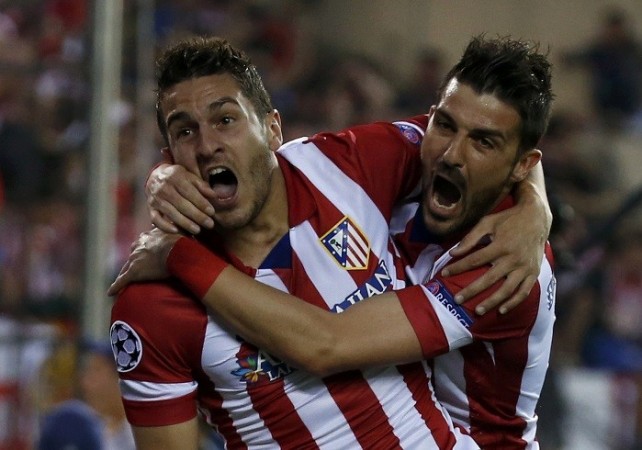 Atletico Madrid stunned one of the favourites for the Champions League - Barcelona - as Diego Simeone's men's magical season showed no signs of abating.
Going into the second leg at a buzzing Vicente Calderon tied at 1-1, Atletico scored the only goal of the game, via Koke, in the fifth minute, with an opening 20-minute blitz completely catching the seasoned Barca off guard.
Atletico could have killed off the tie early in the first half, with the home side striking the woodwork a couple of times in a brilliant spell, as Barcelona failed to find any of their own attacking touch, with their talisman Lionel Messi having a rather forgettable game.
"There's a lot of joy at having got through a tie against great rivals who have a proud history," Simeone said after clinching his side's first semifinal in Europe's elite competition for 40 years. "Now we are calm because we know this isn't the end.
"The first 20 minutes were very good in terms of our attitude, intensity and play. Then Barca began to get into the game and had some opportunities, so things became trickier for us.
"My players don't need words to motivate them - they need security, decisiveness and the ability to try and get the best out of them all. I admire these players. I admire their dedication and the way they work together as a team."
Barcelona now face a real prospect of going through the season without a trophy, as Atletico, if they win their remaining games in the La Liga, can clinch the title, while a stiff test against rivals Real Madrid await in the Copa Del Rey final.
"Results happen for a reason," Barcelona manager Gerardo Martino said. "When Atletico were the better side, they scored their goal. We also had opportunities and just one goal from us would have changed the course of the game.
"At certain points, we couldn't do the things [we wanted] because of how our opponents played. Atletico kept a lot of players near their penalty area -- they did that very well and that made it hard for us to find any space."
Watch the short highlights of the Champions League quarterfinal second leg match between Atletico Madrid and Barcelona HERE.