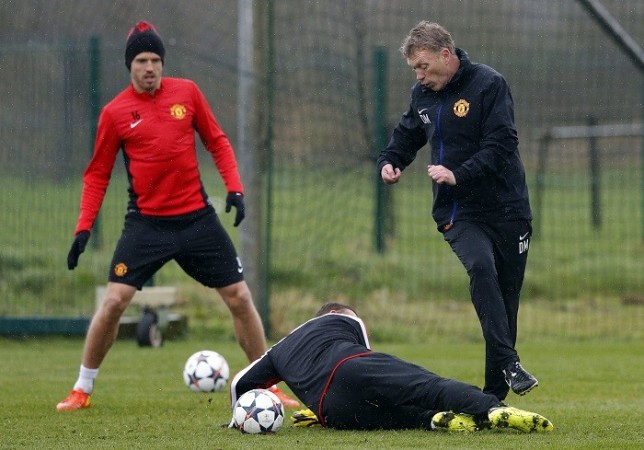 Manchester United have plumbed the depths of despair, and gone down a little deeper already this season. Come Wednesday night, when Man United take on Olympiakos in the second leg of their Champions League last 16 tie, the despair will either be heightened to a previously unknown level, or will be lifted and seen as some kind of salvation which has looked increasingly unlikely as time has gone by under David Moyes.
Trailing 2-0 heading into the second leg, United need to find some serious inspiration at Old Trafford, the ground where they were humbled by their biggest rivals Liverpool on Sunday.
"When you win, you win together and when you lose, you lose together," United left-back Patrice Evra said on Tuesday. "It's been a difficult season for everyone. We're not used to losing games. We always win. Everybody wants to fight for this club, everyone loves this club.
"We know we had a bad game in the first leg. Even a three-year-old Manchester United fan will have been hurting from that performance. But in life you always have a second chance and we get that tomorrow.
"I'm not God and telling you we will qualify tomorrow but I can promise you we will all fight and respect the shirt and make sure all the fans will be really proud of us after the game."
While the results have been extremely poor, it is the style of play and lack of fight which has alarmed most United fans. Moyes admitted he has found this job more difficult than he thought it would be, and more often than not, the former Everton manager has, unfortunately, looked well out of his depth.
Yes, the players have let the team down, and have not performed even remotely to the standards that they constantly produced under Sir Alex Ferguson. But then, one of the primary jobs of a manager is to inspire his side to play for him and for the club, and that is where Moyes seems to have fallen short.
If Moyes can somehow get this seriously disjointed looking team to come together and pull off another one of the many joyous European nights that they experienced so often under the incomparable Ferguson, then it could prove to be the first step towards moving on and putting those poor results behind them.
"The players know they can play better," the under-fire Moyes said. "I don't think any of them are questioning that. But I've got belief in the players because I see what they can do and hopefully we can show it. We have not shown it as often as we would have liked but we will try to make that happen tomorrow [Wednesday].
"It has not been the season we hoped we would have, but the most important thing now is to get the Olympiakos game played and hopefully get through. If we can it will be a massive lift for us. We know we have got ourselves in a poor position being 2-0 down, but we have a lot of belief."
Olympiakos were not outstanding in the first leg, but they did not need to be and yet they managed to pick up a comfortable 2-0 victory. United have been poor defensively, and the much-vaunted forward line have failed to live up to expectations.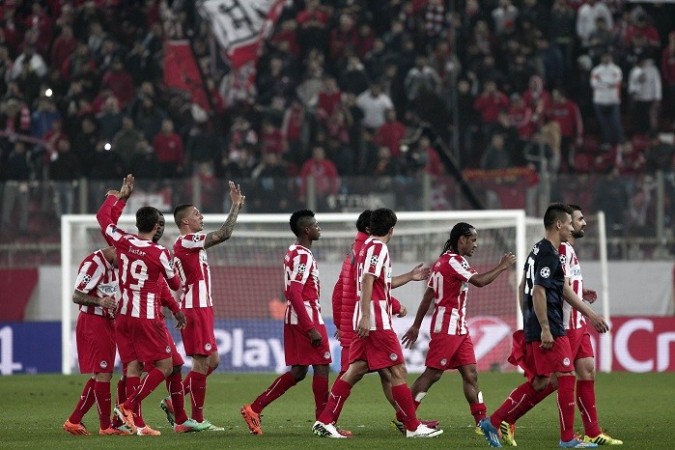 Robin Van Persie criticised his teammates for coming into his area after the loss to the Greek side three weeks ago, but the Dutchman, after an underwhelming performance against Liverpool, will need to bring out some of that form which was pivotal towards United winning the English Premier League title last season.
For Olympiakos, it will be about keeping their wits intact and making sure they rub some more salt into the deep wounds that currently exist amongst the United camp. If the Greek side can keep the mistakes to a minimum and show adventure on the counter-attacks, then they should book their place in the quarterfinals come the end of the final whistle.
"My players aren't scared of anything. Maybe the manager is a bit more scared, but they're not," Olympiakos manager Michel said. "We know the situation at Manchester United but this has nothing to do with us. All we can do is play our game. We cannot rely on their difficulties.
"We would like the game to go the same way as it did in the first leg but we know this will be a different Manchester United. There will definitely be more determination and urgency from them. All we want is a good performance. We definitely need one goal. We cannot just sit back and protect our two-goal lead."
This is the final act for United really this season - lose and the season is pretty much over, with a top-four place in the Premier League as good as gone. A victory, though, could yet keep those pulses alive heading into the business end of the season.
Team news: Manchester United: Juan Mata is ineligible after playing for Chelsea this season, while Nani and Javier Hernandez are ruled out. Chris Smalling and Jonny Evans could also miss out with hamstring and calf injuries respectively.
Olympiakos: Michael Olaitan and Dimitris Siovas are sidelined, but Javier Saviola and Ivan Marcano are expected to feature after returning to training last week.
Key men: Manchester United: There is no better moment for Wayne Rooney to justify the £300,000 a week wages than now. The England forward needs to create a better understanding with Van Persie, with goals from both players vital to United's fortunes.
Olympiakos: Joel Campbell could face United regularly soon enough if Arsene Wenger decided to keep the player at the Emirates from next season, and after scoring in the first leg, the on-loan Arsenal forward will be keen to make an impression yet again.
Expected lineups: Manchester United: De Gea; Rafael, Jones, Vidic, Evra; Fletcher, Carrick; Valencia, Rooney, Januzaj; Van Persie.
Olympiakos: Roberto; Salino, Papadopoulos, Manolas, Bong; Maniatis, Ndinga; Campbell, Dominguez, Fuster; Valdez.
Prediction: 2-1 to Manchester United
Where to Watch Live:
Champions League: Manchester United vs Olympiakos Live TV and Streaming Information (Match starts 7.45 pm GMT, 1.15 am IST, 3.45 pm ET)