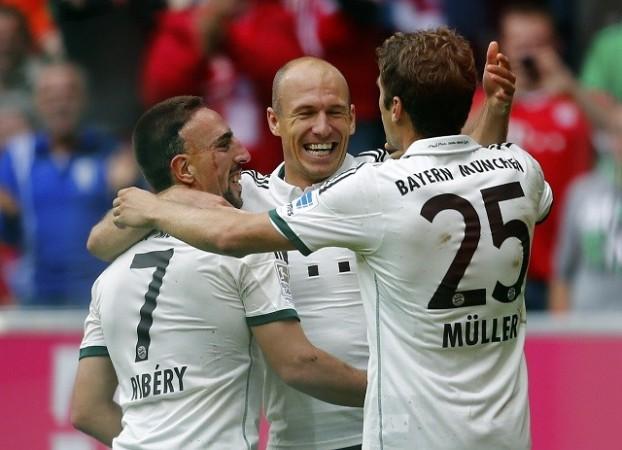 It is never easy being the title-holders of the Champions League, as history as amply shown.
No team has ever been able to defend their crown in the Champions League era and Bayern Munich will attempt to do just that starting with a home game at the Allianz Arena against Russian side CSKA Moscow.
Pep Guardiola begins his European career as a Bayern manager and there will be more than a few eyes glued into the Spaniard -- not just to admire his relatively calm demeanour of course -- but also wondering if there are indeed any chinks in this Bayern team's armour.
If last season is anything to go by, then most of the teams in Europe need to worry.
Bayern were near unbeatable last year and having added the most-wanted manager to their ranks, this time around, theoretically, they should be better.
They have been grouped alongside CSKA, Viktoria Plzen and English Premier League side Manchester City.
The obvious two teams expected to move into the last-16 are Bayern and Man City, but then as the latter has found out too many times in the last couple of seasons - nothing is ever a foregone conclusion in Europe.
"I like the Champions League -- it is a very important competition, but also very difficult," Guardiola said. "So many teams are in contention to win it this year. I am proud to undertake this challenge with my new team."
The former Barcelona manager is not willing to take an opening win over CSKA Moscow for granted either. "CSKA are a very strong side at this stage of the year," Guardiola added. "They have lots of good players who are physically quite strong.
"When I evaluate my opponents I don't concentrate on individuals but the team as a whole. The most important thing is to see how they work as a team, how they play in defence. I remember a game in 1992 against CSKA.
"We (Barcelona) played very well and lost (3-2 at home in a 4-3 aggregate defeat). We didn't know how to counteract their game, handle their counterattacks, and we had won the European Cup the year before."
Guardiola has been criticized in some quarters after taking over at Bayern, with some believing the Germans have not quite progressed as expected from last season. But Guardiola is not the least bit perturbed - after all slow and steady wins the race.
"Bayern won everything playing extraordinary football last season," he said. "This season we have done well, mostly in the second halves of games. I know the team very well. The players always try to do exactly what I want them to do. If they don't do what I want, it's my fault. We stand together and the players want to play my type of football."
Team News: Bayern have a bit of a midfield crisis with Javi Martinez and Thiago Alcanatara out injured, while the inspirational Bastian Schweinsteiger is a doubt.
CSKA, though, have problems of their own with the excellent playmaker Alan Dzagoev ruled out along with Zoran Tosic, Rasmus Elm, Mario Fernandez, Mark Gonzalez and Seydou Doumbia.
Where to watch
The game is scheduled for a kickoff on Wednesday morning (12.15 am IST) with it being telecast Live on Ten HD.
Expected lineups: Bayern Munich: Neuer, Lahm, Van Buyten, Dante, Alaba, Schweinsteiger, Kroos, Robben, Muller, Ribery, Madzukic.
CSKA Moscow: Akinfeev, Schennikov, Ignashevich, V Berezutski, Nababkin, Wernbloom, Cauna, Honda, Zuber, Vitinho, Musa.
Prediction: 2-0 to Bayern