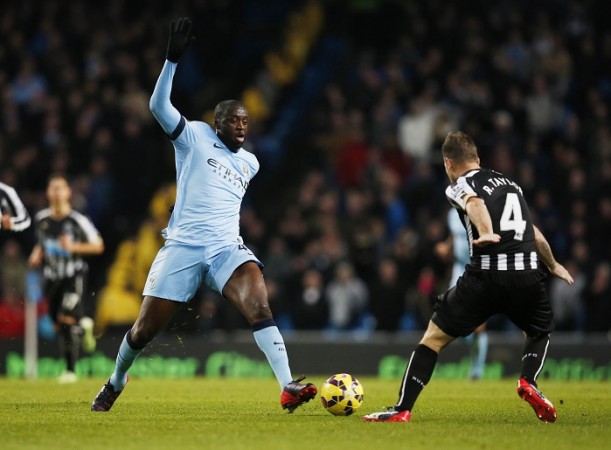 Manchester City boss Manuel Pellegrini is certain that his side can do well without Yaya Toure during their Champions League clash against Barcelona at the Etihad on Tuesday.
The 31-year-old, who was suspended for three European games after being shown a straight card against CSKA Moscow in November, will be serving the last game of his ban against Barcelona, having already missed his side's last two Champions League group games against Bayern Munich and Roma.
And Pellegrini despite admitting that the midfielder is an important member of City's squad, insists that his side will be able to cope without the Ivorian.
"I always prefer to play with Yaya, he is a very important player and we always play better with Yaya," said the Chilean, according to Sky Sports. "But we can do well without him because we did so against Bayern and Roma and we have a good squad to replace him."
The Citizens were knocked out of the Champions League by Barcelona at the same stage of the competition last season, but Pellegrini insists that his side have a good chance this time around due to them having a less hectic schedule ahead of this fixture.
"I think last year was different to this year because we are not playing so many games," he added. "Our team is in a good moment but we also must recognise that we are going to play against a very strong team."
The former Malaga boss, who admits that his side tried to contain Barcelona last season, says that his side will be looking to play their natural game against the Catalans on Tuesday.
"I don't think we tried to change our style last year, we had played 19 games in two months so we tried to play another way. We tried to contain Barcelona but we also tried to play and this year we will try to do what we always try to do."
"The main thing for our team is to fight for possession of the ball and have the ball for as long as we can, with good distribution. After that we have to concentrate because they have very good players."
Finally Pellegrini highlighted the importance of securing a victory in the first leg round of sixteen of the Champions League at the Etihad.
"It's important to try to win here but we are playing better away from home this year. We have to take advantage but the result is not so important because the game is 180 minutes."