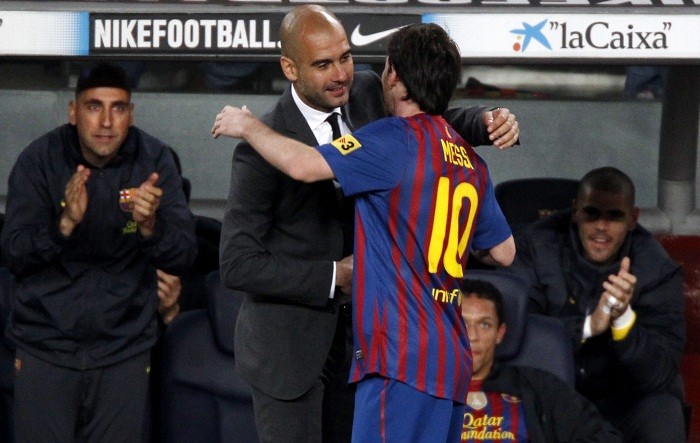 Pep Guardiola is under the spotlight as his Bayern Munich side visit his former Barcelona team in the Champions League semifinal first leg at the Camp Nou on Wednesday.
One of the players – Lionel Messi -- who flourished under his tutelage to become arguably the best player in the world, opened up about his relationship with the former manager, interestingly saying contact was very much at a minimum now that Guardiola is the manager of another team, and that too a major European rival.
"We had a great time when Pep was here," Messi said. "We won a lot of titles and I grew a lot -- that was the time when I grew most as a footballer.
"We had a fantastic relationship when he was here.
"Since Pep left, we haven't really seen each other -- apart from an event for FIFA but apart from that we haven't kept the relationship going. We had a good relationship but we're not in contact."
Relationships, of course, will mean nothing when the opening whistle for Barcelona vs Bayern Munich goes off a little later today, but Messi believes Guardiola will receive a good ovation from the Camp Nou crowd, despite being in the opposition's dugout.
"Guardiola knows us, he knows us all well -- We were lucky enough to win a lot of titles with him," the Argentine forward added.
"Based on what Guardiola meant to the club in his time as coach, I think he will get a good welcome. He gave a lot to the club and he is from here, but I think the fans will support the club and want us to win the game."
While Messi expressed his fondness for the former Barcelona manager, Guardiola was all praise for his former player as well, saying it is "impossible" for any defender to stop Messi when he is on-song.
"If Messi is like I think he will be, there is no defender who can stop him, it is impossible," said Guardiola, whose talisman was the Argentine during his trophy-laden years with Barca.
"When Messi is in form, as now, no defensive system or coach can stop him. Limiting him is different - keep close and keep the ball from him.
"They have the advantage. I know them, but I can't control talent. You can imagine what Messi might do, but talent is decisive."