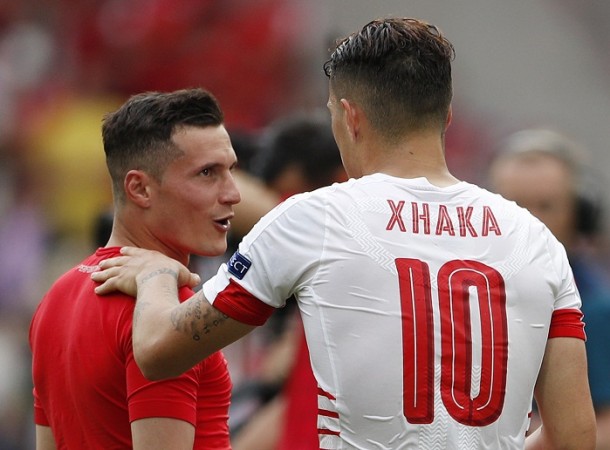 There have been matches in the past when two brothers have played for opposite teams in various football competitions around the world, and the same will be witnessed once again when Arsenal hosts Basel FC in the Champions League match on Wednesday. It is going to be a special occasion for Granit Xhaka (Arsenal) and Taulant Xhaka (Basel FC), who will both give it their all to finish the match on the winning side.
Playing against one another is not too new for the Xhaka brothers, who were recently involved in head-to-head Euro 2016 match as well, with Granit representing Switzerland, and Taulant playing for Albania.
Such moment, which does not happen often, will always be special for the brothers. These players are professionals, who will not shy away from a hard tackle when the need arises during the match. If one knows Granit from his playing days, he is not someone, who will back from a hard challenge, even if it means Taulant is on the receiving end.
Both the players, going into this match, will only have one single agenda, and that is to win at all cost. Despite being close to one another, they are not going to talk about their plans for the match, but Taulant hopes that he gets to meet his brother after the match, and it is at that juncture where photographers will be keen to snap up a beautiful – and emotional – image.
"To play against Arsenal in the Champions League is a childhood dream. It will be special. We both go into it with the same thoughts; that we need to win and give everything," The Telegraph UK quoted Taulant as saying.
"We speak every day, but before a game sometimes not because we have to focus. We won't tell each other how the teams play – we are professional. I hope that after the game we can meet quickly. I need to ask the coach, so hopefully we win and he's in a good mood."
Though the Xhaka brothers playing in one field for opposite teams at a grand stage will be one of the special moments of the match, the focus for both the clubs will be on the match. The team, which emerges victorious on Wednesday, will have a good chance of climbing to the top of the table in Group A. As of now, all four teams, with PSG and Ludogorets being the other two, have only one point in their kitty.