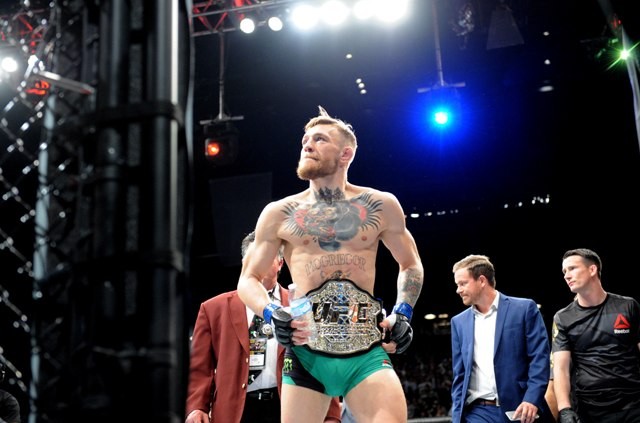 UFC Featherweight Champion Conor McGregor has received fresh challenge as we near the MMA promotion's debut in New York. It was announced last week that an UFC event will be hosted at the famed Madison Square, come November 12.
Expected to be one of the most happening MMA events of the year, UFC New York could turn out to be a landmark event for the company. The fight card is also expected to feature the best fighters in MMA at the moment including Ronda Rousey, McGregor and even Jon Bones.
However, prior to that, the UFC are just months away from another landmark event -- UFC 200, headlined by a welterweight rematch between McGregor and Nate Diaz. Win or lose, the Irishman has to move back to his original weight class after the fight and take on the winner of the match between Frankie Edgar and Jose Aldo, who will be fighting for the interim featherweight title.
The opponent for McGregor after UFC 200 isn't decided yet, but the A-lister has received a challenge already from none other but Frankie Edgar. The No 2 ranked UFC featherweight fighter has never faced McGregor inside the octagon and fans and critics have called for a fight between the two from a long time.
"I'd love to get a win [against Aldo] here [at UFC 200 in Vegas] in July and then fight McGregor for that real title in the [Madison Square] Garden in November," Edgar told FOXBusiness.com. "If not McGregor, then I'll be defending my title in the Garden.
"And also, the interim's going to guarantee me a shot at the title. If I hold the interim, there's no ifs, ands or buts about it. I have to be fighting that guy for the title, or my title becomes the title if [McGregor] doesn't come down," he didn't mince any words.
Edgar hasn't lost any of his five previous fights and that makes him a serious challenger. He has wins over Chad Mendes, Urijah Faber and also the veteran BJ Penn. It will be interesting to see what transpires between him and Aldo at UFC 200 as the Brazilian Aldo already has a win against Edgar.
The Brazilian won over the American fighter by an unanimous decision at UFC 153 in 2013. UFC 200 is scheduled for July 9.